The Exit Interview: CBRE's Mary Ann Tighe Signs Off As REBNY Chair
---
---
CBRE tristate Chief Executive Officer Mary Ann Tighe is a legend in New York's voracious real estate world. Winner of multiple Deal of the Year awards and a 2009 REBNY lifetime achievement award, Ms. Tighe has conquered every peak in her nearly 30 years in the industry, rising to an almost mythic status among the city's machers. A groundbreaker as well, she was the first woman appointed chair of REBNY. Now, as she steps down after her two years in office, she took the time to discuss with The Commercial Observer her accomplishments as chairwoman, the changing New York skyline and what to expect in 2013.
The Commercial Observer: What are your thoughts looking back on 2012? Any predictions for 2013?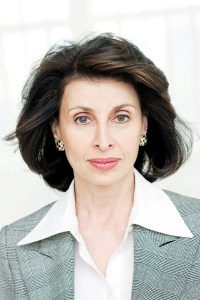 Ms. Tighe: I think that one of the most striking things about 2012 was that it probably needs to be characterized as the year of the renewal. If you take a look at the major transactions that happened in Manhattan in 2012, a vast, disproportionate share of them were renewals. A number of them were relatively short-term renewals.
What we're seeing in 2012 is a market in transition. By that I mean, first of all, we're seeing that our traditional reliance on the financial service industry—which has historically represented more than a third of the amount of square footage occupied in the city—we're seeing that number drop. It's probably now more like 26 percent of the square footage occupied in Manhattan. This contraction by what has historically been our largest industry has impacted the city in ways that are not yet all played out.
In 1929, when the financial service world crashed, if you will, from the early '30s until the early '60s, Manhattan real estate went to sleep. What's really interesting is that after Lehman's bankruptcy and all the repercussions of the late 2008 financial crises, what brought our real estate back—and we are back; we may be doing a lot of renewals, but we're also doing a lot of transactions—was not the financial service world but the publishing world, the advertising world, the tech world, the design world, whether it be fashion design or architecture and engineering. All manner of creative industries.
We're really beginning to see a diversified tenant base in our city, and that really began to become much more visible in 2012.
What other sectors rose to fill the gap left by financial services?
2012 was also the year that educational and health care industries really took more space and began being more engaged with growth in the city. Again, all of those things are 2012 trends that we're going to see play out more and more. For sure, it will continue in 2013 and beyond.
Early in your tenure as chairwoman of REBNY, you pushed to rethink the issue of zoning in East Midtown.
I thought that, in my term, I would like to do something that I felt could be of long-term benefit to the city. Just prior to my becoming chairman, I had been in China, and coming back over the Triborough Bridge after leaving the airport in Shanghai, I turned to look at the city—as you always do when you're crossing the Triborough—and I thought to myself what a romantic, 20th-century skyline it was.
As the days progressed and I was walking around the city, I said to myself, "The problem here in Midtown is so clear—because of the 1961 rewrite of the zoning code, a large swath of Midtown had been effectively down-zoned." You couldn't replace the same amount of FAR [floor-area ratio]. Given that when you buy a building, when you do a ground lease, you're doing it based on the existing FAR. By definition, no one was tearing down these buildings.
So much, I think, of what the real estate board does deal with are the unintended consequences of actions that are taken with good intent. The unintended consequence of '61 zoning was that it froze Midtown.
How did you proceed?
I contacted Amanda Burden, our head of City Planning, and I asked if we could meet for lunch. She has been a real visionary about the zoning of the city and a person who has really listened to the community.
She took it all in. You could she see found it interesting, but she didn't comment. Then she called me up and said, "We want to study this."
My own firm, as well as other real estate service firms—we reached out to Cushman & Wakefield, they were very helpful to us—CBRE's research department, as well as Mike Slattery in the research department of the Real Estate Board, working with Sandy Lindenbaum and his team, Michael Sillerman, we began amassing the data that we submitted to the Department of City Planning.
This was an ongoing dialogue, back and forth. To our delight, within a matter of months, they called [REBNY President Steve] Spinola, Sandy and myself down to DCP and they rolled out for us what they were looking at and the studies that they'd done. We were so impressed with their thought process, because they had looked at other global cities—Hong Kong, Shanghai, London, etc.—to try and see what the ages [of buildings] in the central business districts were, and we were far and away the outlier.
What do you say to critics of the rezoning plan?
What I keep saying to people who are so nervous about this—oh, my God, Midtown East is going to be mowed down—I laugh. I say that we would be lucky if, in a 10-year period, we got three buildings out of this. This is a 50-year project. This is something that will happen and evolve over time. We don't want to reinvent Midtown East—we want to refresh it. That's a very important point.
People don't fully appreciate what it takes to free one site in Midtown, because all the sites are built. If you take the long-term view, this is exactly what Midtown East needs.
What other initiatives are you proud of from your time as chairman?
I think that my time as chairman has re-engaged the brokerage community with the real estate board, because I was the first broker in 30 years to be chairman of the board. Bert French, in the early '80s, had been chairman, and after that it was all owners.
I think that there was a misperception that the board exists to serve owners, despite the fact that, of our 13,000 members, almost 9,000 of them are people involved in the service side of our industry. I think that has changed entirely. I think people recognize now that the board relies on brokers and serves brokers as actively as they serve the ownership.
One of the ways in which we did that is, for the first time, during my chairmanship, we created a position for a technology officer, so that we would have a Facebook presence, we would have a Twitter account, we would update our website and refresh it on a regular basis.
What lessons have you learned over the past two years?
I didn't realize how our public sector didn't really understand our industry. It's like Midtown East. Then you suddenly realize that the language of real estate is something that, in fact, most public sector officials don't speak. I think the first lesson I learned as chairman of the real estate board was, rather than beginning with what we were suggesting, you almost needed to begin with a little tutorial on why this was needed.
Something that I pointed out continuously in my time as chairman is that the city's revenues rest on the real estate industry. Almost 50 percent—like 48.9 percent last year—of every tax dollar collected comes from the real estate of New York. People always think it's the bonuses of Wall Street—no.
During the Bloomberg administration, real estate taxes went up 100 percent, in terms of revenue collected, that's how vital it became. The way taxes are charged, people don't realize that it's the most stable. Incomes go up and down, bonuses go up and down, sales tax revenue can go up and down, but the way real estate is charged, it's the most predictable.
It's not just property tax. It's commercial rent tax, its mortgage recording tax, it's transfer tax—this is all real estate tax. You add all of that together, you come up with a number that represents basically half of every tax dollar collected.
Do you ever think about the fact that you were the first female chairman and what it means?
Every time I go to 570 Lex, second floor—which is where the offices of the Real Estate Board are—when the door opens there is a picture of every chairman of the board since it was founded in 1896. I look at the wall, and there I am at the end of the line. It is a startling moment, always, because I see generation after generation of the men of New York real estate, and there's my picture. So, if you ask me, when do I think about it, it's when the door opens in the elevator at 570 Lex, second floor.
The women in our industry have been so supportive and have expressed to me in many different ways how empowered and validated they feel. Now it's clear they are members of the club. It's not just a boys' club anymore.
Do you have any advice for Rob Speyer?
Rob Speyer could give me lessons. You have to remember that his grandfather and his father held the chairmanship before. I'd say that all he has to do is listen to them. He's ready for this job in every respect.