Art of the Deal: Colliers International's Christel Engel on Butterflies & Brokers
---
---
The mere mention of "the need for creativity in real estate" sparks a sudden shift in Christel Engel's otherwise stoic demeanor, as a wide smile overtakes her face. It's a necessity in today's real estate world, she says, raising a finger.
"You want to see? I'll be right back," says the Colliers International team leader, who oversees a portfolio comprising 1.5 million square feet, springing up from her chair, dashing from the room and returning in a matter of seconds with a large black scrapbook.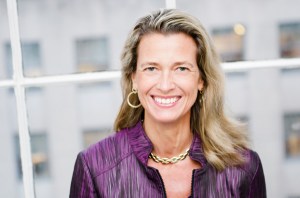 She wipes the dust from its cover and lays it across the conference room table, riffling through the pages with excitement.
Numerous renderings fill the pages. But they are not depictions of buildings, development projects, floor plans or other images related to commercial real estate. Rather, each page features a different insect-themed painting, created by Ms. Engel using ink on acetate paper.
The butterflies, caterpillars, spiders and bees might not seem to relate directly to commercial real estate, but for Ms. Engel, her art is just another avenue for the same creativity that is essential to success as a broker today.
"I think creativity is a must-have today to be effective in navigating real estate transactions," said Ms. Engel, who was a painter long before she entered the world of real estate. "We live in an ever-changing world, and we have moved into advisory services, and every day will require more and more creativity. If we don't do that, we [brokers] will move closer and closer to becoming obsolete."
With over 25 years of experience in the commercial real estate industry, Ms. Engel, who joined Colliers International in 1992, when it operated as GVA Williams, focuses on landlord and tenant representation. She does an average of 50 deals a year.
The job of the broker has evolved since Ms. Engel entered the industry, and it's no longer one of simply showing space, she said. A broker today needs an "enterprising attitude," and the ability to take a leap of faith on companies, in a similar spirit to the firms Ms. Engel deals with every day in the technology and media space.
Many of her landlord clients have transitioned to prebuilt space, and it takes a creative eye to land the right tenants in these spaces, she said—a case in point being her work with Thor Equities at 245 Fifth Avenue.
"We realized that if you are willing to develop prebuilt space of exceptional quality, you are able to set the market standard," she said. "These spaces are universally interesting to the demands of different types of companies, and creating an open layout is especially important in fostering a creative atmosphere."
Ms. Engel and her team recently brought Say Media to the building, in a lease for the 14,200-square-foot base floor. And they leased an additional 27,000 square feet to several tenants, primarily in the entertainment and film industries, including the Documentary Channel and Elite Model Management.
At 129 West 29th Street, which was fully renovated from loft to creative office space, Ms. Engel and her team recently expanded Rocket Fuel's blueprint to over 12,000 square feet and leased 8,059 square feet to Humor Rainbow, among other deals.
Art and real estate are not only connected in terms of creativity for Ms. Engel; it was her work as a painter that literally helped her land a job in real estate when she moved to the city from Germany in her early 20s, after her sharp eye for creative detail had first turned her on to New York's architectural wonders.
"I'll admit it—I fell into this business by accident," she says, recalling how, in the mid-1980s, an artist friend married to a developer asked her to help find prospective art tenants for a studio development being built on the Lower East Side.
"I didn't even know I was thinking about real estate," she said. But whether she knew it or not, Ms. Engel was so good at bringing interested parties in that she caught the eye of the firm marketing the space for the developer, and she was soon asked to join the boutique brokerage. She closed 11 deals that year, Ms. Engel said.
Moving to New York from the small German town of Trittau, where the tallest building was no greater than six stories, Ms. Engel was captivated by the city's architectural diversity and its skyscrapers, with personal favorites like the Chrysler Building and the Fuller Building quickly taking on special meaning.
She recalled the time she got lost in the Masonic Hall, accidentally wandering into a restricted area, where an elderly guide offered her a peak at the Masonic temples.
"To this day, I will not forget that, and I'm not sure that I've seen a more interesting building architecturally," she said.
One of her first landlord representation assignments in the city was at 25 West 39th Street, which she referred to with a twinkle of nostalgia in her eye, calling it, with textbook accuracy, a "classic piece of architecture, commissioned by Andrew Carnegie in 1903 and built for the engineering society."
As fate would have it, Joe Sitt and Thor Equities ultimately bought 25 West 39th in the late 2000s, giving Ms. Engel a fresh opportunity to bring tenants into the building.
"It's my most cherished and exciting landlord rep assignment because of its architectural significance, from its grand staircases to its towering ceilings," she said.
Though the role of the broker has markedly evolved, its main tenets persist—for instance, the importance of building relationships and being humble, Ms. Engel said.
To remind her of that, she reflects on the time she spent working alongside Jerome Cohen, then chief executive and president of GVA Williams, who was a mentor to her during her earlier years at the company.
"He told me to look at a 1,000-square-foot transaction with the same detail and energy as a 100,000-square-foot transaction—he simply demanded that," she said. "Big or small, there isn't a single transaction that doesn't have hair on it."
129 West 29th Street
,
245 Fifth Avenue
,
25 West 39th Street
,
Andrew Carnegie
,
Chrysler Building
,
Chrystal Engel
,
Colliers International
,
Documentary Channel
,
Elite Model Management
,
Fuller Building
,
GVA Williams
,
Jerome Cohen
,
Joe Sitt
,
Lower East Side
,
Masonic Hall
,
Say Media
,
Thor Equities
,
Trittau