Surviving Sandy: Behind the Scenes with REBNY in Aftermath of Storm
---
---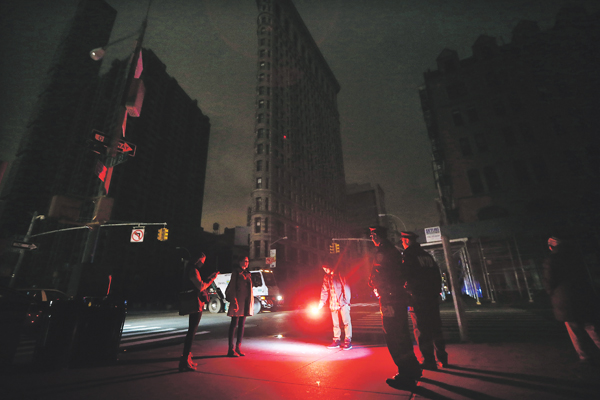 As forecasters became more and more certain that a monster storm named Sandy was barreling toward Manhattan in the 48 hours leading up to its landfall on Monday, October 29, Real Estate Board of New York President Steven Spinola lay in a hospital bed recovering from a sudden medical emergency.
But the hospital stay didn't prevent him and others at REBNY from mobilizing one of the most concerted disaster recovery efforts in the organization's history.
Two days after the storm hit, working from his bedroom on doctor's orders, Mr. Spinola called Department of Buildings Commissioner Robert LiMandri with one thing on his mind: how to get owners back into their buildings.
"Everyone assumed it was going to be a bad storm, but I don't think anyone believed it would be the storm that it was," Mr. Spinola said. "We were trying to come up with a structure to allow building owners back into their buildings. And lower Manhattan was the primary target for us."
Mr. Spinola struck a quick deal with Mr. LiMandri for an alternative to buildings' safety alarm systems. These systems normally alert staff about issues with sprinkler systems or fires, but many were destroyed or dramatically impacted because of flooding. Mr. LiMandri agreed to allow safety managers stationed throughout the buildings to act in place of the systems, the first step in bringing buildings back online faster than many had predicted.
Last week, with just a few buildings still closed in lower Manhattan, Mr. Spinola breathed a sigh of relief as he sat down with The Commercial Observer to reflect on the events leading up to the storm, revealing the behind-the-scenes steps of the real estate industry's swift counterattack to Sandy's wrath.
By the accounts of some REBNY staff, the actual preparations for Sandy started up to a week before the storm hit lower Manhattan, as REBNY worked hand in hand with the Department of Buildings to advise members on precautions they could take—from sandbagging to sealing off construction sites—in the event that the storm followed its forecasted trajectory toward the Northeast.
"The question was, how do we tie down construction sites and what needs to be done to do that safely … and we obviously communicated that info and what the process was going to be to the members," Mr. Spinola said, recalling the crane that infamously dangled for days over the One57 development on West 57th Street.
"Thank God it didn't fall, but obviously it was put up properly, and what Barnett and Tishman did there actually kept it from falling," he said. "The city was very good at preparing for the storm and making sure construction sites were secured."
Mr. Spinola was released from the hospital, where he was treated for an intestinal ailment, the day before the storm hit, and he worked from home during his recovery. He incessantly toggled between phone and email, coordinating efforts with his staff to provide REBNY members with all information possible on the storm, what it might bring and how to prepare.
Among the key players taking lead roles in assisting with Mr. Spinola's efforts were REBNY Senior Vice President Angela Pinsky, former Executive Vice President Shannon Fales, Assistant Vice President of Government Affairs Paimaan Lodhi and policy analyst Ryan Baxter.
200 West Street
,
Allen London
,
Andrew Cuomo
,
Angela Pinsky
,
ConEd
,
Department of Buildings
,
E-J Electric Installation Co.
,
Forest City Ratner Companies
,
Larry Kochman
,
Muss Development
,
National Hurricane Center
,
National Oceanic and Atmospheric Administration
,
Office of Emergency Management
,
One57
,
Paimaan Lodhi
,
Related Management
,
Robert LiMandri
,
Ryan Baxter
,
Shannon Fales
,
Solstice Residential Group LLC
,
Steven Spinola
,
Verizon
,
World Trade Center
,
Brookfield
,
Durst Organization
,
Goldman Sachs
,
JLL
,
Lightstone Group
,
Real Estate Board of New York
,
Related Companies
,
Tishman Speyer