Rock Shrimp Productions Inks Deal At 115 Broadway In Latest Media Move Downtown
---
---
Rock Shrimp Productions signed a lease for a 10,000-square-foot second floor space at 115 Broadway, between Thames and Cedar Streets, the latest evidence of media and tech migration to Lower Manhattan.
The company behind several series featuring chef Bobby Flay (Boy Meets Grill, Throwdown) is moving from Hudson Square, a neighborhood more often associated with production and technology firms.
Michael Okun and Peter Sabesan of Coldwell Banker Commercial Alliance represented the tenant. Brad Gerla and Adam Foster of CBRE represented the owner, Capital Properties.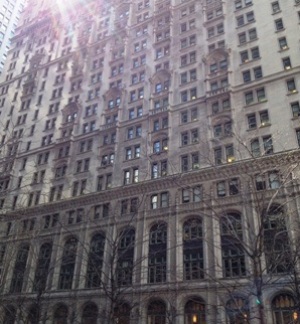 The move comes on the heels of publisher HarperCollins leaving Midtown for headquarters at 195 Broadway. Conde Nast will anchor One World Trade Center with more than 1,000,000-square feet of office space.
"Downtown's becoming cool again," Mr. Okun said. He also noted sparse inventory and spiking rents in traditional media and tech hotspots like Midtown South and Hudson Square.
The second floor at 115 Broadway is in the airy style that creative firms prefer. Mr. Okun noted its 17-foot ceilings and exposed windows overlooking Zuccotti Park. Relatively low asking rents–around $40 per square foot in the 21-story, 430,000-square-foot 115 Broadway–also lure companies to the area.
"Economics is one factor, employment pool is another," Mr. Gerla said when asked about the historically finance-friendly neighborhood's appeal to unorthodox tenants. "[Lower Manhattan] locations are excellent options commuting-wise for these young, smart employees who often live in Brooklyn, Hoboken or downtown."