RELA Celebrates the New Year at Cipriani's!
---
---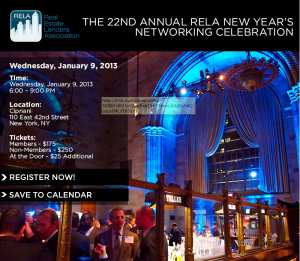 Mix and mingle alongside 500 industry insiders, tonight at the 22nd Annual RELA Networking Celebration. Hosted at Cipriani la Specialita, just across the street from Grand Central Station, the event promises to kick off the new year in style, offering opportunities for established leaders and up-and-comers alike to share in the excitement of what 2013 has in store.
The Real Estate Lenders Association, Inc. is a not-for-profit corporation formed in 1991 to provide a forum for real estate lenders and equity investors to advance their knowledge and expertise in their industry. Membership is exclusive to institutions involved in commercial real estate debt and equity. Members receive unparalleled access to networking, education and career growth opportunities. To join, click here.