REBNY Gala 2013: Banquet To Bank On
---
---
It's described by real estate wheelers and dealers as "the industry's only must-attend event." A crippling bout with a stomach virus was the only thing that once kept a 25-year veteran of the affair away. At least one pillar of the brokerage community wants the whole thing disbanded.
The Real Estate Board of New York's Annual Banquet is back this week at the New York Hilton's Grand Ballroom, its 117th edition. Food will be served and ignored. Booze will flow and attention will be paid. Award recipients will make acceptance speeches drowned out by a cacophonous crowd that makes the old Yankee Stadium's bleacher creatures look reserved.
The first Real Estate Board of New York (then the Real Estate Board of Brokers) gala took place on May 12, 1897, at the since-destroyed Marlborough Hotel on Broadway between 36th and 37th Streets. The dinner started with littleneck clams and ended with "fancy ice cream" for the evening's 50 assembled members and guests.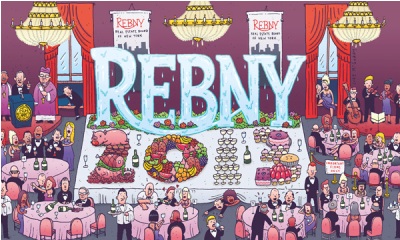 Banquet attendance increased twentyfold, to 1,000 guests, between 1897 and 1914. And the (hypothetically) black-tie event has only gotten bigger and louder since then.
Leslie Wohlman Himmel, a partner at Himmel + Meringoff, hasn't missed the gala since she first attended—or, more accurately, crashed—in 1983. She was surrounded mostly by strangers. "I'd ask everyone I ran into for their business card," Ms. Himmel said. "Now, I go and say hello to a couple thousand of my friends."
The gala seems to have fattened Rolodexes across the city, back when people still had Rolodexes. "I'll never forget the first one I went to, in 1985," Robert Knakal, chairman and founding partner of Massey Knakal Realty Services, said. "[Co-founding partner] Paul [Massey] and I knew five people in the room."
A guest list replete with power brokers is one reason why the banquet endures as the Oscars of the real estate industry. Luminaries come from fields outside of, but complementary to, the business, presenting brokers and owners with the chance to meet, hobnob and drink with the biggest names in investment banking and politics.
But normally steely real estate players get sentimental about the event and its unique charms. "Some people may see the gala as an incubator for future deals," Bruce Mosler, the chairman of global brokerage at Cushman & Wakefield, said. "But it's really a rare opportunity to thank your colleagues."
Jeffrey Sussman, the president of Property Group Partners, agreed. "You get to see people you'd like to say hello to," he said. "It's nice, these days, that you don't only talk to people over email or phone calls."
It seems that not even assigned seating can cut the wine-abetted bonhomie by causing competitiveness or perceived slights. The prime tables are front and center, within canapé-tossing distance of the dais and its neglected speechmakers. But no one really cares about table geography.
"People might look at it as a pecking order if table placements were open to discussion," Jimmy Kuhn, president of Newmark Grubb Knight Frank, said. "But the same people have been at the same tables for 25 years. It's like lunch at the Four Seasons—you know your spot, and it's all yours." Mr. Sussman has another theory to explain the unimportance of seating.
"You can't sit still without someone pushing you or smacking you in the head with a tray," he said. Indeed, banquet guests are in perpetual motion through the ballroom, which contributes to its egalitarian feel. Another common bond between guests is that none of them come for the food.
In place of dinner, there's an overwhelming din. Banquet attendees talk at length and with notorious enthusiasm. There might exist somewhere on earth a potential guest speaker that would get the ballroom to shut up, but he hasn't been found yet.
"The only silence I've ever heard there is at the beginning when they play 'The Star-Spangled Banner,'" Mr. Sussman said.
"Speakers recognize that the people in the room are happy for them, but also that they're there to see and interact with everyone," Mr. Mosler said. "There's not a moment of collective silence, but it's not a sign of disrespect."