Output Nightclub To Hit Dance Floor On Williamsburg's Booming Wythe Avenue
---
---
After spawning enough trend pieces last summer to merit its own styles section, Wythe Avenue in northside Willliamsburg continues to churn out high-profile nightlife openings.
The next promising arrival is Output, a 452-person-capacity nightclub at 74 Wythe Avenue opening in the next few weeks that looks to give the neighborhood's discerning electronic dance music contingent a place other than legally dubious warehouses and lofts to check out its favorite deejays.
A source familiar with the project told The Commercial Observer that Output will be one of two venues operating under separate leases at the 11,424-square-foot building (up from 7,324 square feet after the construction of a second floor). The main club (and restaurant) will be joined by a back room and roughly 2,500 square feet of outdoor rooftop space, together accommodating up to 348 people.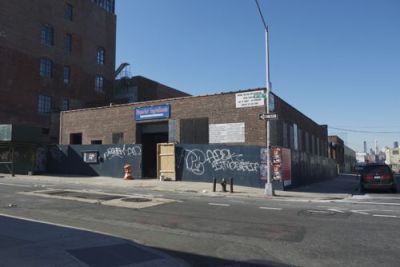 Output will open down the street from the Wythe Hotel, the 72-room lodging whose arrival last May prompted local bloggers and journalists to declare Williamsburg's transformation from post-industrial bohemian backwater to chic, black town car destination complete.
The studiously casual restaurant Reynards and Meatpacking District-esque rooftop bar The Ides opened within the hotel. Add in nearby King & Grove, another boutique hotel (complete with postage-stamp-sized pool), Kinfolk Studios—a combination gallery-bar-café-restaurant one block south of the hotel—and relative old-timers like Brooklyn Bowl and Brooklyn Brewery, and this pocket of Williamsburg near McCarren Park became the comically of-the-moment place to be.
Output should stand out among the arrivistes. It's a proper nightclub at a time in New York when internationally known techno, house and nu-disco deejays typically spin at cramped art galleries, abandoned warehouses-turned-film studios and dim sum palaces turned for a Saturday night into strobe light and fog machine-laden dance clubs.
As a fully licensed club with a full, legal bar and a sound system not trucked in by a rented U-Haul—the speakers are by the revered Funktion One—Output hopes to revive the city's desiccated nightlife scene. It's practically in a league of its own in north Brooklyn. But it should also give the few remaining biggish dance floors in Manhattan—Pacha, District 36, Santos Party House—not squeezed out by soaring rents, police raids or the post-Giuliani regulatory vise a run for their money.
Output has already positioned itself as a grownup home for Brooklyn's underground techno and house showcases—don't call them raves—by booking a Bunker party on February 22. Bunker, arguably the city's premier pop-up home for recondite techno talent—has been a monthly affair held since 2007 at the 4,000-square-foot Public Assembly in Williamsburg. Time will tell if Blkmarket Membership, Mister Saturday night and Resolute—other roving Brooklyn electronic music parties in a similar vein to Bunker—will follow.
Another question is whether Output will be suitably rough-hewn for dance music fiends accustomed to learning the address of an event hours before it begins and then waiting in line for a Porta Potty as a Berlin-based deejay spins in a forlorn factory space or the promoter's buddy's Clinton Hill loft apartment. Connoisseurs of inaccessible techno and off-putting grime might balk if Output attracts an excessively glossy Manhattan-style crowd.
But even if Output can't extend its hours well past dawn as Brooklyn's more aggressive underground parties do, techno heads should cheer the arrival of a venue with better acoustics and less vulnerability to police raids.