Mozarts and Einsteins Stroll Into Park Slope
---
---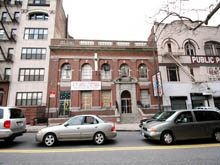 Mozarts and Einsteins will be opening a preschool in Park Slope, The Commercial Observer has learned.
The integrated arts and academics school inked a deal for a 6,200-square-foot, ground-floor retail space to house its latest expansion at 910 Union Street in Brooklyn.
"We are very excited to be opening our pre-school in the heart of Park Slope and in such a beautiful, historic building," said Melody Stevens, founder of Mozarts and Einsteins, in a prepared statement. "We are looking forward to the opportunity to serve the community and believe our programming and curriculum will appeal to local families."
Steve Sunderland of Optimal Spaces represented Mozarts and Einsteins in the transaction. The broker for the landlord, American Development Group, LLC, was not disclosed, but the landlord was represented by an in-house broker.
The lease was set for 10 years. The school will start accepting applications in February 2013 with an expected opening in the following summer.
"We are very pleased to sign a lease with Mozarts and Einsteins," said Perry Finkelman, chief executive officer of ADG, in the same statement. "Park Union is located in the highly regarded 321 school district and the preschool will provide a much-needed specialized and creative option for parents and growing families in the community."
Mozarts and Einsteins brands itself as an innovative preschool that emphasizes the arts for children between the ages of two and four. The curriculum includes tap, jazz, and ballet dancing disciplines, reading, math, computers, and Spanish.