Modko Expands to Brooklyn's Industry City
---
---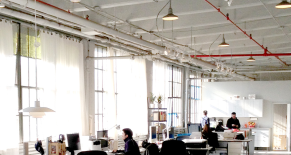 Pet products designer, Modko, has leased 3,500 square feet of space at Brooklyn's Industry City as part of a three year lease. The October 1 agreement – which began with a $12 per-square-foot asking price – will facilitate the company's expansion and allow the firm to store and design more of its wares.
The addition of Modko is a further step toward changing Industry City from a storage oriented facility to one that houses a community of local industry, said Julius Chabbott, director of real estate for Industry City.
The facility has undergone capital improvements to its windows, facades, electrical distribution and fiber-optics to attract potential tenants. It was these renovations that caught the eye of Modko co-founder, Brett Teper.
While driving down the Brooklyn-Queens Expressway, Mr. Teper had noticed the Industry City campus and was impressed by the beautification the facility was undergoing. He and business partner, Rich Williams, took steps to see what the campus had to offer, finding large spaces and a professional community of manufacturers. "We instantly fell in love with what it was," said Mr. Teper.
Messrs. Williams and Teper had begun their business as a graphic design firm based out of a 600 square foot office on Fulton Street, in Lower Manhattan. Several years later, after switching over to pet product design – Mr. Teper had also started a family – the two were in search of more space in Brooklyn and found it at Industry City. The cost was higher than they had been paying but not by a substantial margin.
In the new space, Modko will establish a small photo studio, a wood shop and table saws, to facilitate the creation of product prototypes. Should the company require more space in the future, an upgrade within Industry City is possible, Mr. Teper said. "That was one of the attractive things."
Other uses for the extra square footage will include storage for smaller products, freshly shipped from the company's manufacturers in Asia, as well as a holding area for products that need to be shipped to trade shows at which Modko presents its wares.
Other tenants operating in industry city include the lighting company, Roll and Hill; Industry City Distillery, makers of local vodka; Blue Marble Ice Cream; and stationary and letter head company, SoHo Letterhead.