Michael White's Altamarea Restaurant Group Confirms 206 Spring Street Lease
---
---
It turns out that Michael White can go home again after all. The restaurant world was abuzz last November with rumors that Mr. White's Altamarea restaurant group (Marea, Osteria Morini, Ai Fiori, Nicoletta) had inked a deal at 206 Spring Street, where Mr. White got his start in the Fiamma kitchen.
Confirmation came today in The New York Times that an untitled Altamarea restaurant will open in the space. Publicists for the company were tight-lipped on details and did not return The Commercial Observer's requests for comment.
Altamarea will take over three floors of the 12,400-square-boot building, which Corigin Real Estate Group purchased last November from BR Guest Hospitality for $8 million.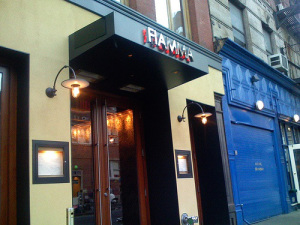 BR Guest had used the Soho building as an event space for up to 185 people since Fiamma closed in 2009, a culinary victim of the recession. Mr White and BR Guest President Stephen Hanson reportedly had a falling out during Mr. White's tenure as Fiamma's original chef starting in 2002.