Jamestown Properties Pays $284 M. for Milk Studios Building
---
---
Jamestown Properties has purchased the Milk Studios building at 450 West 15th Street from Stellar Management for more than $284 million, city records show.
The 325,000-square-foot, eight-story office building, home to photography studio Milk Studios and an eclectic mix of tech, fashion and creative tenants, borders the High Line.
It's a symbolic and strategic move for Jamestown, which owns the Chelsea Market across the street and looks to expand its footprint in the heavily-traveled Meatpacking District.
Ironically, city records show that Stellar provided a $150 million loan to Jamestown, which suggests that the move was perhaps more than a kind gesture, but also a play to complete the deal before the end of 2012, as imminent capital gains taxes loomed (the city record was filed on Friday, but shows the deed was finalized December 21).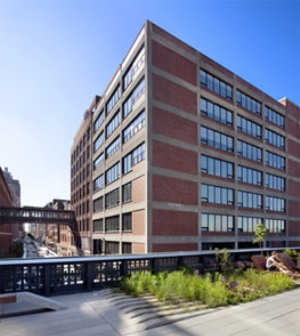 Executives from Jamestown and Larry Gluck's Stellar Management, which purchased the building in January 2008 for $161 million, according to city records, could not be reached for comment.
Douglas Harmon and Adam Spies of Eastdil Secured represented the seller.  Mr. Harmon also represented the sellers of the property during its previous two sales.  He did not return calls seeking comment in time for publication.
After a conversion transformed the building from a storage space to a sleek, lofts with exposed brick and high ceilings, the property ushered in a line of luxury previously absent from the neighborhood.
Among the tenants is global healthcare communications agency Chandler Chicco and fashion companies Mulberry and Tod's.
Giorgio Armani was the latest company to ink a deal in the building, signing a 60,000-square-foot lease in December, previously occupied by auction house Phillips de Pury & Co., as previously reported in The Commercial Observer.
The Italian fashion company is due to move its headquarters and showroom to the space in October 2013.  Cushman & Wakefield represented Giorgio Armani in that deal.
Jamestown Properties' New York portfolio also includes office buildings at 325 Hudson Street, 530 Fifth Avenue, 1250 Broadway and One Times Square; the Griffin Court Condos at 800 10th Avenue; and a 25-story residential mixed-use complex, Be@Schermerhorn, at 189 Schermerhorn Street in Brooklyn.
1250 Broadway
,
189 Schermerhorn Street
,
325 Hudson Street
,
450 West 15th Street
,
530 Fifth Avenue
,
800 10th Avenue
,
Adam Spies
,
Be@Schermerhorn
,
Chandler Chicco
,
Chelsea Market
,
Cushman & Wakefield
,
Douglas Harmon
,
Eastdil Secured
,
Giorgio Armani
,
Griffin Court Condos
,
Jamestown
,
Meatpacking District
,
Milk Studios
,
Mulberry
,
One Times Square
,
Phillips de Pury & Co
,
Stellar Management
,
Tod's