Funky Soul Takes 3,400SF at 530 Seventh Avenue for Retail Showroom
---
---
Denim fashion label Funky Soul has inked a deal for a 3,400-square-foot lease at 530 Seventh Avenue, where it plans to create a showroom, The Commercial Observer has learned.
The Funky Soul line utilizes the latest technology to produce "quality, body-enhancing apparel," according to a statement from the company.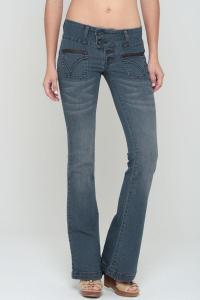 "The Enhancers" line was released in 2011 in the United Kingdom and can also be found in the United States through Frederick's of Hollywood, Feel Foxy, Dor Le D'or, and Flavor, among others fashion retailers.
"Funky Soul wanted to be in this building as it allowed them to build a spectacular showroom in close proximity to some of the biggest players in the fashion industry," said Marc Schoen of Savitt Partners, in a prepared statement, who represented the tenant along with Brian Neugeboren, while Bob Savitt represented the landlord.
The brokers were not available for immediate comment.
The 490,000-square-foot, Art-Deco building at 530 Seventh Avenue is located in the heart of the Fashion District, a premier location for many of the hottest fashion companies in the contemporary, junior and missy category, as well as designer, bridge, menswear, urban, footwear and accessory industries.
The denim retailer joins a long list of prominent tenants in the building, including Perry Ellis, Zappos, Max Mara, New Balance, Chaus, Asics, Michael Stars, TKE, Point A Showroom, Swatfame/Speechless, DC Shoes, Hybrid Apparel, Carmen Marc Valvo, Onward Kashiyama, Heart Soul, Maggy London, Topson Downs, Un Deux Trois, and YMI Jeanswear, according to a statement from Savitt Partners.
Funky Soul apparel is available in the United States, and globally in Canada, Mexico, Guatemala, Costa Rica, Panama, Dominican Republic, Australia, Qatar, United Kingdom, Venezuela and Puerto Rico.
and Flavor
,
Asics
,
Carmen Marc Valvo
,
Chaus
,
DC Shoes
,
Dor Le D'or
,
Feel Foxy
,
Frederick's of Hollywood
,
funky soul
,
Heart Soul
,
Hybrid Apparel
,
Maggy London
,
Max Mara
,
Michael Stars
,
New Balance
,
Onward Kashiyama
,
perry ellis
,
Point A Showroom
,
Swatfame/Speechless
,
TKE
,
Topson Downs
,
Un Deux Trois
,
YMI Jeanswear
,
Zappos