Eight New Stores to Hit Chelsea Market Next Month
---
---
Ownership at the Chelsea Market is reportedly renovating 5,700 square feet of space to make way for eight new vendor kiosks, where cooking and food preparation will be on display for its 120,000 weekly visitors.
Most of the space was created when Amy's Bread moved part of its operations off-site, and the rest will come from the renovation of a loading dock and an office, the New York Times reports.
Leases are currently being negotiated and rates will run in the $200 to $400 per square foot range, and the stores, to be delivered in plug-and-play condition and geared towards start-ups and "less-established" businesses, will be operational as soon as mid-February, said Michael Phillips, COO of Jamestown Properties, according to the Times.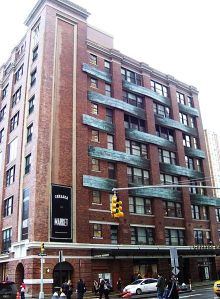 "They include power supply, water supply, hood systems for cooking, kitchen equipment where there's cooking," he said, adding, "They're really sort of fitted-out modern versions of a diner food counter with exhibition kitchens."
The City Council approved Jamestown Properties' plan to add two office towers to Chelsea Market in November 2012 after a compromise was struck with community groups who claimed the office space would bring unwanted congestion the neighborhood and spoil the authentic look of the market, which has roots dating back to the 19th century.
The two office towers – one eight and the other seven stories – will make up a combined 300,000 square feet of space and are scheduled for completion in 2015.