California Taqueria Owner Battles With Brooklyn Landlord
---
---
A day of reckoning is just around the corner for a Cobble Hill landlord and the owner of a taqueria who have found themselves in an unusual squabble that included the tenant allegedly locking the building owner in his own basement.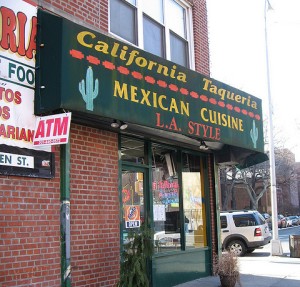 Staten Island resident Ramon Palermo, owner of 187 Court Street in Brooklyn, is seeking to obtain just over $300,000 from the tenant, who he claims has not paid rent since 2008. Meanwhile, an proceeding to force the issue is scheduled to be taken up in court on January 30.
The tenant, California Taqueria, owned by Robert Donnelly, is operating without a lease and refuses to budge, alleging that an expired lease gave the tenant right of refusal. "He said he's going to stay all his life," said Mr. Palermo, who is 88.
Donnelly did not respond to calls for comment made to his establishment.
Mr. Palermo has become proactive, attaching a sign to the top of his car meant to publicize his plight to those in the community. "I have to somehow let the public know what the guy is doing to me," said Mr. Palermo of the car he's been driving near the restaurant, photo of which turned up on sites like Pardonmeforasking, Eater and Brownstoner yesterday.
"You have to go through landlord tenant court, there's no question," said Regina Felton, Esq., Palermo's attorney.
The tenant had occupied the space at 187 Court Street and 8 Bergen Street for ten years prior to the expiration of the lease in 2008—a lease Palermo did not intend to renew for the tenant. That lease allegedly gave the restaurant the right of first refusal but that lease – negotiated by Palermo and his accountant – was deemed inadequate by a Supreme Court judge because the two were laypeople. "What was necessary to properly construct a binding right of first refusal was absent," Ms. Felton said.
Not so, said Mr. Donnelly's attorney, Leon I. Behar, who has put forward a motion to dismiss on the grounds that the landlord has filed similar cases in both Supreme and Landlord-Tenant courts. "We are hopeful that the landlord tenant case will be dismissed and will be adjudicated in Supreme Court, where it belongs," he said. The Supreme Court has the power to interpret elements of a lease or contract, Mr. Behar explained, and Landlord-Tenant court does not. "This is going to go all the way to the appellate courts," he said he expects.
Following the landlord's proceeding to force payment of back rent, the tenant filed an action to force a ruling for right of first refusal. At that time, Mr. Palermo parted ways with his then attorney and never filed an Answer to the action. Not knowing a case lay dormant in the system, Ms. Felton took over as his lawyer, filed another action and an answer to the tenant's. Another answer — issued by Mr. palermo's former attorney — was presented by the tenant that had not been filed in court documents. "My suspicion is that this was fabricated to dismiss the action that I started in the Supreme Court for rent," Ms. Felton said.
Mr. Behar said he may subpoena the landlord's former attorney for the purpose of authenticating the answer that was served. He added that to say that it was fabricated is a "harsh allegation" and, if true, could be a disbar-able offense by Mr. Palermo's former attorney.
According to Mr. Palermo's daughter, Rose MacLeod, Donnelly locked Mr. Palermo in the basement of his own building in an attempt to elicit a renewal agreement from him. "He said, 'you will not leave here until you sign this lease.'" Mr. Palermo found a way out, she said, and a Supreme Court judge adjudicated Mr. Palermo's recount of the situation as hearsay.
This seems a disagreement that will not be rectified by negotiation. "My father won't negotiate with (Donnelly) and neither will his heirs after he dies," Ms. MacLeod said.