A Grand Century: 100 Years of Grand Central Terminal
---
---
The December 2011 opening of the Grand Central Terminal Apple store was another in a long line of developments that bolstered the station's status after years of sooty neglect not only as a thriving, glimmering transportation hub, but also as a destination for people with no plans to board a train.
"It's a fantastic place to manage, and it's a great place for any kind of commercial activity," said former Metropolitan Transportation Authority chairman and New York mayoral hopeful Joe Lhota. "Apple moved in and was another transformation that led to more and more people coming through."
Apple arrived 35 years after the campaign to save Grand Central accelerated under the stewardship of Jacqueline Onassis. When the grand old Pennsylvania Station was demolished in 1963 to make way for today's Penn Station, it jolted Ms. Onassis and others in New York's incipient landmark preservation movement.
iPad kiosks and a genius bar attest to Grand Central's general comeback and emergence as a retail destination. But its central function as a railroad station hasn't budged over the course of 100 years that have seen the advent of commercial air travel and spiffy, modernized transit centers around the world.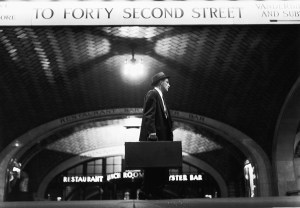 Grand Central's status since 1968 as a National Historic Landmark means that its famously handsome bones are safe from the wrecking ball. But the terminal's continued relevance depends on its infrastructure and technology keeping pace with younger peers, and also on fending off developers—old foes who are even more attracted to the institution since its rebirth.
William Wilgus, the New York Central Railroad's chief engineer, proposed today's Grand Central in 1902 in a three-page letter to the railroad's president, W.H. Newman. The station had been remodeled at great expense just a few years earlier, but Mr. Wilgus's vision hinged on technological advancements of the day, specifically the replacement of steam trains with electric trains, which ran faster and emitted less smoke and fumes than their predecessors.
As Sam Roberts writes in his new book, Grand Central: How a Train Station Transformed America, the most transformative aspect of Mr. Wilgus's plan was placing the tracks underground. A subterranean rail yard would eliminate the noxious, clamorous "Chinese Wall" that stretched north from the station entrance at 42nd Street to 56th Street between Madison and Lexington Avenues.
The old Grand Central Station was razed between 1903 and 1913, making way for Mr. Wilgus's 12-story, 2.3-million-square-foot vision of Grand Central Terminal. When completed, it contained 32 miles of rails, 46 tracks and 30 platforms. The terminal cost $43 million ($1 billion in today's dollars) to build; the whole project cost more than $2 billion in today's dollars.
The opening of the new terminal to the public on February 2, 2013, was a civic event—more than 150,000 people visited in its first 16 hours. But Mr. Wilgus extolled the benefit to the corporate sphere from the start, saying the occasion "marked the opening of a remarkable opportunity for the accomplishment of a public good with considerations of private gain on behalf of the corporation involved."
Subterranean tracks now efficiently brought suburban and regional commuters to a neighborhood ripe for development after the burying of the rail yard. But short- and long-distance rail travel ebbed after World War II, as commercial air travel soared and booming suburbs created a car culture encouraged by New York's "master builder," Robert Moses.
The original 1910 Beaux-Arts Penn Station—a worthy rival to Grand Central for half a century—was demolished in 1963 to make way for a more cost-effective structure (and today's Madison Square Garden). That event galvanized preservationists, leading to the formation two years later of the Landmarks Preservation Commission. The commission granted Grand Central landmark status in 1967.
Ms. Onassis was Grand Central's celebrity defender in the 1970s, while the city verged on bankruptcy and spiraled toward crime-ridden decay. In 1968, building owner Penn Central Railroad had unveiled contentious plans for a 55-story office tower atop the terminal, which led to a 1978 Supreme Court case, Penn Central Transportation Co. v. New York City. The court ruled against Penn Central in the seminal regulatory takings trial, writing that Grand Central's regulated designation did not infringe upon its owners' investment in the property.
"It's probably the single biggest event in landmarks history," said Vin Cipolla, president of the Municipal Art Society of New York. "It was a watershed in upholding the landmarks law. It supported the idea that preserving these extraordinary and iconic places in perpetuity mattered."
Apple
,
centennial
,
East Side Access
,
Gabrielle Shubert
,
Grand Central Terminal
,
Jacqueline Onassis
,
Joe Lhota
,
Municipal Art Society
,
Peter Stangl
,
Randy Fleischer
,
Sam Roberts
,
Vin Cipolla
,
William Wilgus