The World's Most Expensive Retail & Office Space–CBRE Study
---
---
CBRE released a study today, showing that top tier retail areas in New York have held value, with Fifth Avenue's rents increasing significantly. The new study lists the top shopping destinations on the planet, as well as the most valuable office space markets, and Hong Kong tops both categories.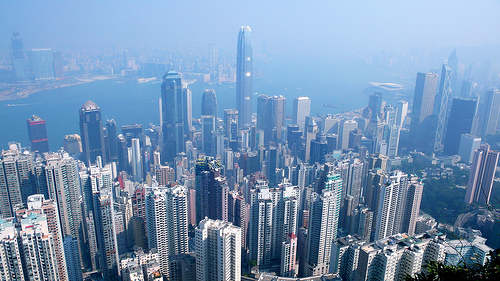 "In simplest terms, globally the retail market – the top end shopping streets in the world –have held their value or increased their value throughout," said Andrew Goldberg, executive vice president with CBRE. Rents along Fifth Avenue jumped 17 percent quarter over quarter and internationally known retailers are clamoring to find space along that shopping corridor to place flagship boutiques, according to the report.
The rent increase could show that retailers are willing to pay more in order to stake a claim on prime shopping locations in New York, Mr. Goldberg said. The best top tier markets in the city – such as Fifth Avenue, Madison Avenue and Times Square – have grown, and though more neighborhood-oriented retail corridors like the upper east and west sides have grown as well, they have not done so on the same scale, Mr. Goldberg explained.
CBRE's global retail rent index increased on a quarterly basis by 2 percent—7.3 percent year over year. Hong Kong, New York, Tokyo, Sydney and London made up the top five – in that order – of the world's most expensive retail real estate, with Hong Kong jumping ahead of New York due to its surging rental rates—a phenomenon The Commercial Observer reported on last month.
"Hong Kong and other Asia Pacific markets have benefited from international retailers – particularly fast-fashion, cosmetics, jewellery, watch, and mid-range fashion retailers – aggressively seeking prime locations across the region," said Ray Torto, global chief economist with CBRE. "Even despite softer demand, the limited ability of prime stock has kept prices high. Retail rental growth in the Asia Pacific region is expected to continue to ease as the economy slows, consumers cut back on discretionary spending, and retailers turn more cautious."
In the premium office space sector, the global market has cooled due to slowing economic growth in China, recession in Europe and slow economic recovery in North America, according to CBRE's report. A slowdown in leasing activity amongst financial services has also been a factor.
The Midtown sector of New York is listed 16th on CBRE's lineup of the most expensive office markets, at $114.30 per square foot, annually—right behind Shanghai's Pudong district.
Hong Kong, London and Tokyo were listed as the most expensive office space markets per square foot, as of Q312, due to low vacancy rates and limited space. The biggest increases in value in the last 12 months were enjoyed by downtown San Francisco, Jakarta, Indonesia; the San Francisco peninsula area; suburban Seattle and Finance Street in Beijing, China.
Andrew Goldberg
,
beijing
,
CBRE
,
Fifth Avenue
,
Hong Kong
,
karsten strauss
,
London
,
office
,
pudong
,
ray torto
,
Retail
,
San Francisco
,
seattle
,
shanghai
,
sydney