Tech Firm, 10Gen, Plants a Flag in the Old New York Times Building
---
---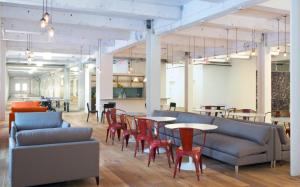 Information database developer, 10Gen, was looking to become the latest technology firm to set up shop in Midtown South but found a more attractive option further north, taking 29,400 square feet at 229 West 43rd Street—the old New York Times Building—and was offered an asking price between $70 and $80 per square foot. The five year lease gives the company an option to take another 14,000 square feet as needed, as well as the rest of the building's fifth floor – another 30,000 square feet – at a later date.
"We evaluated about 50 buildings of which we toured half," said Greg Taubin, executive managing director with Studley, who represented 10Gen. The firm was seeking a large space with room to grow and an option to terminate and properties in Midtown South did not make the cut. Prior to the search, Mr. Taubin and Studley had warned that options may be limited in what seems to be Manhattan's most desirable commercial real estate market as vacancies are low, he said. The firm decided to look into alternatives. "Before looking downtown they were going to look further north, but not much further north," Mr. Taubin said.
The old New York Times Building offered a vast, open office area that 10Gen had initially envisioned. "While the space is raw we were able to negotiate a very positive concession package," Mr. Taubin said. The landlord, Blackstone's Equity Office, will be putting together some prebuilt office area.
"We've seen a lot of these types of tenants at the New York Times building and its seems there are a lot of tenants out there that want pipes and bricks instead of glass and steel," said Brian S. Waterman, Vice chairman of Newmark Grubb Knight Frank, who represented the landlord. Mr. Waterman feels other tenants who initially seek office space in Midtown South will gravitate north to midtown. The area provides good transportation, the A and C trains connect to Brooklyn, where many office workers live. 229 West 43rd Street offers high ceilings and a special uniqueness, he added.
10Gen
,
229 West 43rd Street
,
Blackstone Group
,
Brian Waterman
,
Equity Office
,
Greg Taubin
,
karsten
,
midtown south
,
New York Times building
,
Newmark Knight Frank
,
strauss
,
taubin
,
Waterman