On 10th Anniversary of First NYC Pop-Up, Retailers Look Back
---
---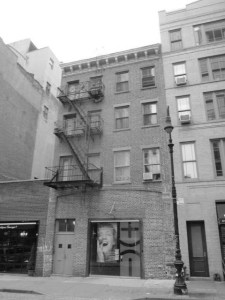 It was a Los Angeles-based company inspired by Japanese shopping habits that brought pop-up retail to America. During a trip to Tokyo in 1999, Russ Miller witnessed the lengths to which the city's famously voracious consumers would go to buy rare and limited-edition products.
Mr. Miller brought that mind-set back to L.A. with Vacant, "a retail concept and exhibition store" that would open shops only to close them as soon as they ran out of goods.
Discount retailer Target once again positioned itself as the funky anti-Walmart when it took over a 220-foot-long boat at Chelsea Piers for a two-week stay on the Hudson River that coincided with Black Friday in November of 2002. Vacant arrived in New York in February 2003, working with Dr. Martens on a pop-up space at 43 Mercer Street.
That September, during Fashion Week, Target hit the bull's-eye, so to speak, with a Rockefeller Center pop-up hyping and selling a line created in collaboration with high-fashion designer Isaac Mizrahi. Less triumphantly, the brand-new (and now-defunct) budget airline Song landed in Soho that November with a one-month lease on a space where visitors could sample its in-flight menu and purchase tickets.
By this point, the pop-up template was clear and advantageous to an eclectic group of retailers. Classic brands reached young shoppers through guerilla marketing. Fledgling companies made splashes in highly trafficked corridors without signing expensive long-term leases. Major retailers could unveil unorthodox concepts and set up shop in, or near, prime Manhattan neighborhoods without infuriating NIMBY types with the threat of a big-box store. In the summer of 2004, Target even won over Bridgehampton's summer elite with a pop-up tastefully folded into a 19th-century antique shop on Main Street.
Over the years, mass retailers including JCPenney have followed Target's lead in gaining a Manhattan toehold. Luxury brands like Chanel, untethered to discount lines, have opened temporary stores throughout New York. (Meanwhile, the pop-up selling a high-low collaboration between Missoni and Target caused a veritable stampede when it opened for Fashion's Night Out last year.) Some, like the Canadian apparel brand Joe Fresh at 1055 Madison Avenue, have turned pop-up shops into permanent outposts.
But Mr. Miller sees individual pop-ups becoming more temporary, even as the concept becomes a bigger part of the permanent retail landscape. Among some of Vacant's most notable upcoming projects are short-lived retail locations in airports, hotels and vending machines.
1055 Madison Avenue
,
43 Mercer Street
,
Chanel
,
Chelsea Piers
,
Fashion's Night Out
,
Isaac Mizrahi
,
J.C. Penney
,
Joe Fresh
,
Missoni
,
Pop-Up
,
Rockefeller Center
,
Russ Miller
,
Target
,
Vacant
,
Walmart