More Luxury Condos Coming to Greenwich Village
---
---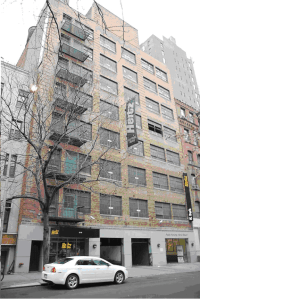 East 13th Street, LLC., – a partnership of DHA Capital and Continental Properties – has closed on the purchase of a 45,000+ square foot parking garage in Greenwich Village. The property, which sold Dec. 5 for $32 million at slightly more than $700 per square foot, is located at 12 East 13th Street and will be converted to luxury condominiums, said Lee Odell of Lee Odell Real Estate, representing the buyer. ABS Partners represented the owners – a small familial group who would not be named.
The development will be comprised of no more than 10 units and asking prices will start at $2,000 per square foot, said Dan Hollander, DHA managing principal. "The building is going to be very high end condominiums," he explained. "It's going to focus on large units and its going to have a very high level of finish. It will have at least one parking spot per unit."
Exterior renovation will yield a mix of modern and traditional architecture and the partnership has chosen CetraRuddy as its architect. Construction will begin this coming summer.
Odell was familiar with Mr. Hollander and Continental – which took on the moniker East 13th Street LLC. for the development – having known its partners for about 15 years. He had also known the owners. "We found a buyer for them in the summer of 2012," Mr. Odell said. "At that point they were not prepared to consummate the sale." Following further search for a buyer with ABS, the owners returned to Odell brokers, Kelvin Martinez and David Martin, and their buyer, East 13th Street. The building's tenant, Hertz Rental Car, saw its lease expire on Sept. 30, Mr. Odell said. "It was an ideal time for them to sell," he said.
ABS Partners executive managing director, Alan S. Cohen, co-managing partner, Steven Hornstock, director Adam Maxson and associate, Justin Strizzi, represented the family in its search for a buyer. "We had buyers from all over, big and small," said Mr. Maxson. "There was a lot of interest in it."
A similar building that was a parking garage – 66 East 11th Street – was recently converted into a residential building offering luxury condos, according to ABS.
"It's a very desirable location, and a unique opportunity in this area," Mr. Cohen said. "The structure is truly a raw space, with many creative redevelopment possibilities and the close proximity to mass transit and other amenities the neighborhood provides were strong selling points of the property."
12 East 13th street
,
ABS Partners
,
Adam Maxson
,
alan s. cohen
,
centra
,
centraruddy
,
centray/ruddy
,
Continental Properties
,
dan hollander
,
david martin
,
dha capital
,
east 13th street llc
,
hollander
,
justin strizzi
,
karsten
,
kelvin martinez
,
lee odell
,
Steven Hornstock
,
strauss