Microsoft Inks 3rd Biggest Deal of 2012
---
---
Months of negotiations between SPJ Properties and Microsoft have finally paid off, with the tech giant signing a 230,000-square-foot lease at its new Midtown headquarters at 11 Times Square – and solidifying one of the top leasing deals of the year.
The company eyed the new space for months, as rumors swirled it would be vacating Vornado's 1290 Avenue of the Americas, and last month The Commercial Observer reported that a number of issues, including negotiations over outdoor signage, delayed Microsoft's signing of a letter of intent at the 1.1-million-square-foot 11 Times Square.
Next to the General Services Administration deal at 1 World Trade Center and a deal involving the law firm Kaye Scholer just last week, the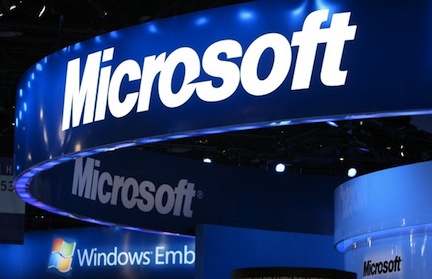 transaction is the third biggest non-renewal leasing transaction of 2012.
A spokesperson for law firm Kasowitz Benson, which represented Microsoft the lease, confirmed with The Commercial Observer today that the deal closed behind closed doors on Friday.
Also known as Times Square Plaza, 11 Times Square is a 40-story, 600-foot skyscraper, built by a fund run by Prudential Financial Inc. and New Jersey-based developer SJP Properties for $950 million.
The Microsoft deal is a big win for the building, which, plagued by bad timing, struggled to land tenants when leasing began – on the heels of the Lehman Brothers collapse.
It took the developers about two years to sign anchor tenant and law firm Proskaur Rose, which signed 400,000-square-foot lease in January 2011.  Earlier this year, the retail space landed a 25,000-square-foot lease from Global Food International, a Russian restaurant group.
It was a pitch by building owner SJP Properties months ago that rekindled Microsoft's interest in the building, which had swayed to Mort Zuckerman's 250 West 55th Street.
A team from Jones Lang LaSalle led by executive Mitch Konsker was behind the original push to bring the company to the building, but SJP Properties and Mr. Konsker were not available for immediate comment, nor was Lisa Kiell, a leasing broker at Jones Lang LaSalle who has represented Microsoft in the past.
11 Times Square
,
1290 Avenue of the Americas
,
250 West 55th Street
,
global food international
,
Jones Lang LaSalle
,
Kasowitz Benson
,
Lisa Kiell
,
Microsoft
,
Mitch Konsker
,
Mort Zuckerman
,
proskaur rose
,
Prudential Financial Inc.
,
SJP Properties
,
spj properties
,
Times Square Plaza
,
Vornado Realty Trust