Fortuna Realty Group Sells Two Morningside Heights Properties for $14M
---
---
Morris Moinian's Fortuna Realty Group has sold a 31,434-square-foot, two-building portfolio at 215 West 108th Street and 210 West 109th Street to real estate investor Joseph Franco for $14 million, The Commercial Observer has learned.
The six-story walk-up at 215 West 108th Street is roughly 17,710 square feet and has 23 units, nine of which are rent stabilized.  The property at 210 West 109th Street, also a six-story walk-up, is 15,944 square feet, with 21 units, two of which are rent stabilized.
A majority of the units are two- and three-bedroom units, most of which have been renovated, sources said.
"Franco owns several properties in that submarket and this was a way to bite off too big units with more than 30,000 square feet and tremendous upside in great locations," said Peter Von Der Ahe of Marcus & Millichap, who represented both parties in the transaction.  "With higher-end residential moving into this part of town and multiple universities surrounding the area, there has been a lot of rent growth over the last few years."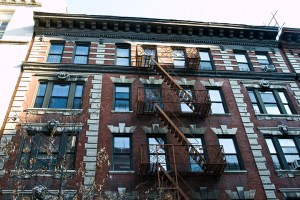 The transaction confirms Moinian's trend of disposing of non-core residential assets and utilizing the profits for large scale real estate developments in the hotel and hospitality sectors, a main focus at Fortuna Realty Group.
Mr. Von Der Ahe and his team are marketing another Moinian portfolio for just under $12 million, that one consisting of two adjacent three-story buildings at 1527-1531 York Avenue, made up of a total 14 apartment units and four retail spaces.
A statement from Fortuna Realty Group suggested that the buyer might consider converting the rentals into condominiums, though Mr. Von Der Ahe said he did not believe it was Mr. Franco's intention.
"Could it happen, yes," he said, "But in my opinion these are great, large residential building that you can put good tenants in and keep for rental."
Fortuna Realty Group recently sold a package of 35 units in Central Harlem on St. Nicholas Avenue; and they sold 364 West 18th Street for $35 million to Stonehenge Partners earlier this year.
They are building a hotel in Soho at 525 Greenwich Street, to be opened at the end of 2013.  The hotel will feature a double-deck rooftop bar.