Debt Pioneers: Starwood Property Trust's Brain Trust
---
---
This past October, after three and a half-weeks of negotiations, Starwood Property Trust and a fund controlled by Starwood Capital Group originated the REIT's largest transaction so far—$475 million in combined acquisition and construction financing for a joint venture to develop Times Square Gateway Center, a 340,000-square-foot multi-use complex in the busiest area of Manhattan.
After a run of about three years, Starwood Property Trust, which real estate investor Barry Sternlicht took public in August 2009, has "entered the big league," as FBR Capital Markets analyst Gabe Poggi wrote in a report after the release of the REIT's third-quarter 2012 results.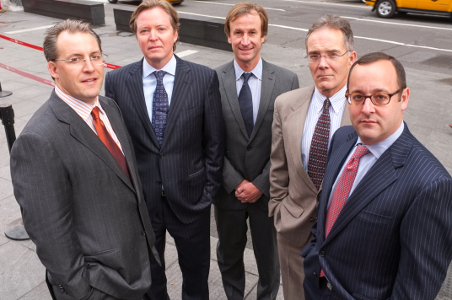 The country's largest commercial REIT, with a market capitalization of $3.1 billion as of November 6, closed $599 million in new investments in the third quarter and an additional $482.3 million of new investments since October, with many more in the pipeline due to close by the end of the year.
There are at least two very powerful "secret weapons" behind these results, it emerged from a series of interviews the members of the executive team running Starwood Property Trust had with The Mortgage Observer.
First, the REIT benefits from "major synergy between the Starwood Capital Group equity team and the debt team of Starwood Property Trust," said Mr. Sternlicht. This synergy was fully employed in the Times Square Gateway Center deal, which was sourced and closed by Marcos Alvarado, a senior vice president at Starwood Capital Group and a fast rising young star on its acquisitions team.
Starwood Property Trust's other ace in the hole is an executive debt team that has been together for almost two decades—through all the ups and downs that commercial real estate finance has seen in that period.
President Boyd Fellows, Chief Financial Officer Stew Ward, Chief Credit Officer Chris Tokarski and Chief Originations Officer Warren de Haan were hired by Mr. Sternlicht in October 2010 to form the executive team of the REIT, along with Chief Operating Officer and General Counsel Andrew Sossen—who had been hired in 2009.
The team's story dates back to the origins of the CMBS market. "We've been together for an incredibly long time—we act as a team," Mr. Fellows said. He estimated that the team has closed roughly 5,000 mortgages in its entire history together.
After years of shared careers and lives, the team's bond goes well beyond its professional relationship.
"Ultimately," said Mr. de Haan, "we love working together. We trust each other implicitly, and as a team we are stronger than we are individually."
Mr. Fellows and Mr. Ward were the first to meet, back in 1983. Originally from St. Louis and Denver, respectively, the pair were just out of their M.B.A. programs and had landed jobs in the treasury department at Bank of America in San Francisco.
Both outdoorsmen, location was a key factor for them in those early job decisions.
"Both of us were interested in jobs pretty much only in San Francisco or Denver," Mr. Ward remembered. "Places where you could ski and ride."
The group still pursues a shared passion for outdoor sports, which was among the reasons for choosing California as a base, though, in fact, the team is spread across multiple locations. Mr. Fellows, Mr. Ward and Mr. Tokarski are based in San Francisco, Mr. de Haan is in Los Angeles and Mr. Sossen commutes between his Upper East Side home and the Starwood office in Greenwich, Conn.
Messrs. Fellows and Ward's work in real estate lending began at Morgan Stanley. From there, they moved to Nomura in the early 1990s, where they were among the pioneers of the CMBS market.
Being a pioneer meant all the attendant room for creativity while developing those early sophisticated structures. "It was like the Wild West," Mr. Fellows asserted, speaking in a New York café on a snowy morning in early November, just before hopping a plane back to San Francisco. "We brought a huge amount of what I would call science to the process, in a real estate world that had never experienced this kind of rocket-science-based lending.
"We invented a lot of structures," Mr. Ward said a few days later, as the entire team met in New York for a busy schedule of meetings. "Simple things that today people don't even think twice about."
For example, the notion of defeasance to pay off the mortgage early, he said, was "something that Boyd thought [up] on his own."
Andrew Sossen
,
Bank of America
,
Barry Sternlicht
,
Boyd Fellows
,
Chris Tokarski
,
Countrywide
,
FBR Capital Markets
,
Gabe Poggi
,
Marcos Alvarado
,
Nomura
,
Starwood Capital Group
,
Starwood Property Trust
,
Stew Ward
,
Times Square Gateway Center
,
Warren de Haan