America Works Opens in Jamaica
---
---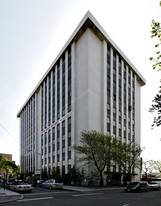 America Works is expanding to a new office in Jamaica, Queens.
The private organization that helps transition workers to the private sector will be taking a 9,386-square-foot office at Muss Development's 88-11 165th Street.
"America Works only wanted to be located within a small grid in both Brooklyn and Queens that was centrally located [and] close to transportation," said Joe McLaughin, founder and managing partner of Capstone Realty Advisors and broker on the transaction, referencing their recent lease deal in Brooklyn.
In addition to their new office at 88-11 165th Street, America Works also signed at 44 Court Street in Brooklyn for approximately 14,000 square feet.
"One of the driving factors for both locations is that the space needed to be built and ready for occupancy by January 1, 2013," Mr. McLaughlin continued. "Both landlords were able to negotiate quickly and had the resources needed in order to get the construction completed on time."
Mr. McLaughlin was joined by his colleague Kevin Phelan on both transactions. The pair also worked on a deal for America Works about ten months ago for an office at 350 West 31st Street.
"This is a total of 31,492 square feet that they have taken in additional space within the last year throughout Manhattan, Brooklyn and Queens," Mr. McLaughlin added.
Building management was represented by their in-house brokers Stan Markowitz and Nick Forelli. The leasing team is nearly finished leasing the building with only having a 3,100 square foot space in the 10-story 170,000-square-foot Class A office tower.