A King-Sized Deal In Brooklyn Marked the Biggest Investment Sale of the Year
---
---
Brooklyn malls don't usually come to mind as the city's highest-grossing commercial real estate. But this year was different, with 5100 Kings Plaza, a k a the Kings Plaza Mall, taking the top spot among citywide sales when it sold for $751 million earlier this month.
It wasn't just the biggest sale of the year—it was the biggest outright, single-trade sale in Brooklyn ever, according to data provided by Massey Knakal Realty Services.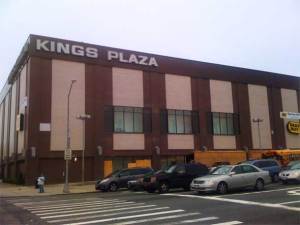 "This is an additional stone in the foundation of a stronger Brooklyn," said Arthur Draznin, an executive managing director with Newmark Grubb Knight Frank, who was not involved in the transaction. "Williamsburg is the hottest market of the five boroughs, and lots of other areas are continuing to build up, trading at levels never seen before and rents that are competing with Manhattan rents. That's why you see Brooklyn being so strong."
The next time the calendar will align like it did on 12/12/12 will happen on January 1, 2101. And the next time The Rolling Stones, Eric Clapton, Bon Jovi, Billy Joel and Paul McCartney convene to play a show at Madison Square Garden will probably happen never.
So it was perhaps appropriate that, just as plans for the once-in-a-lifetime Sandy Relief Concert were being finalized, so were the negotiations to sell the 1.2-million-square-foot behemoth in southwest Brooklyn, nestled between Mill Basin and Marine Park, an area not traditionally known for harboring such enormous commercial real estate deals.
Macerich, one of the country's leading owners, operators and developers of major retail properties, purchased the shopping center from the real estate investment trust Vornado Realty and its affiliate, Alexander's Inc., with the deal reportedly closing on December 5.
Eastdil Secured represented the sellers, but the firm did not return multiple calls seeking comment for this article.
Net proceeds from the sale were a reported $481 million, after repayment of the existing loan on the property and closing costs. Vornado's share of the financial statement gain was reportedly $180 million, and the REIT will receive a special long-term capital gain dividend of $202 million from Alexander's from the sale.
In turn, Vornado's Board of Trustees declared a special long-term capital gain dividend of $1 per Vornado share to its shareholders.
Kings Plaza, the only enclosed super regional mall in Brooklyn is anchored by Macy's, Lowe's and Sears.
Alexander's Inc. is an REIT that owns seven properties in the greater New York City metropolitan area.
It should be noted that two partial interest transactions, which were not included in our roster of the top 10 investment sales this year, each netted more than the Kings Plaza transaction. The two transactions occurred at the PaineWebber Building at 1285 Avenue of the Americas and the MiMa building at 450 West 42nd Street, selling for $804 million and $787.4 million respectively, according to data from Real Capital Analytics.
1285 Avenue of the Americas
,
450 west 42nd street
,
5100 Kings Plaza
,
alexander's inc.
,
arthur draznin
,
billy joel
,
bon jovi
,
Eastdil Secured
,
eric clapton
,
Kings Plaza Mall
,
Macerich
,
Madison Square Garden
,
Marine Park
,
Massey Knakal Realty Services
,
mill basin
,
mima
,
Newmark Knight Frank
,
painewebber
,
painewebber building
,
paul mccartney
,
Real Capital Analytics
,
the rolling stones
,
Vornado Realty Trust