Treetop Development Pays $8.8 Million for Two West Harlem Properties
---
---
Newark, N.J.-based Treetop Development has closed on two West Harlem walk-up properties for $8.8 million.
The 5-story buildings at 220-226 West 116th Street and 449 West 125th Street, which make up a total of 52 two- and three-bedroom apartments and seven retail stores, are part of a continued push by the company to acquire properties in under-served Manhattan neighborhoods.
In the area north of 96th Street and up to 135th Street on the west side, rents are still relatively affordable, new projects and retail hubs are sprouting, and there's access to transportation and universities, said Adam Mermelstein, Treetop's managing founder along with  Azi Mandel.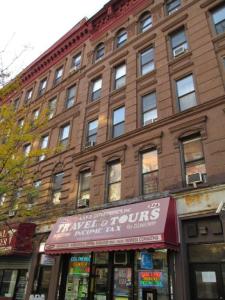 "We have pegged this as a target location for us because we really believe that there's significant upside in the rents," Mr. Mermelstein said.  "It's already bright, but we're of course betting on an even brighter future here."
The existing Columbia University campus, as well as its 17-acre expansion campus currently being built between 125th and 133rd Streets, Broadway and 12th Avenue, makes the two- and three-bedroom set up perfect for students; and many residents representative of creative industries are also prevalent in the area, Mr. Mermelstein said.
"We feel that the Columbia expansion extend prime retail further west and will connect the 125th Street corridor, bringing retail rents on our side up significantly," he said, noting that $50 to $60 per foot range at the West 125th Street location is currently a stark contrast to those near Fifth Avenue which go for up to $100 per foot.
At the West 116th location, between 7th and 8th avenues, Mermelstein foresees a 20 percent increase in retail rents, which currently hover around $60 per foot, but where a significant shift in retail is occurring from local retailers to national and big-box stores.
The company will soon be marketing a vacant store with 30 feet of frontage at the West 116th Street location, he added.
Though both properties were renovated in 2001, Treetop will undertake gut renovations at the properties, where renovated two-bedrooms will start at $2,000, and three-bedrooms will start at $2,500.
Earlier this year, Treetop purchased properties at 1917 7th Avenue; 110 St. Nicholas Avenue; 110 West 116th Street; 120 West 116th Street; and 165 West 127th Street, consisting of over 135 apartment homes and 16 retail spaces totaling 15,000 square feet.
110 St. Nicholas Avenue
,
110 West 116th Street
,
120 west 116th street
,
165 west 127th street
,
1917 7th avenue
,
220-226 west 166th street
,
449 west 125th street
,
adam mermelstein
,
azi mandel
,
Columbia University
,
Treetop Development