The Election and its Effect on Commercial Real Estate Pricing
---
---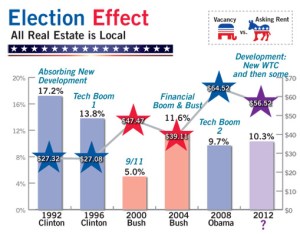 With the election next week, we thought it was a great time to (very briefly) look at a 20-year time span (which will soon include a total of six presidential elections) in the context of the Manhattan commercial real estate market. Where did the market stand at the time of each election, and what occurred under the stewardship of each president? Real estate cause and effect appears, for the most part, much more local, and doesn't have a close relationship with the person or party in the highest office. Nevertheless, elections are great reference points.

After the jump, each of our last five elections is listed, showing the overall vacancy rate and asking rent in Manhattan, ending with where we stand today, exactly one week before the next election.

1992 – Clinton: 17.2%/$27.32

It took some time for Manhattan to shift into major recovery mode—pulling out of a combined recession and building boom (the previous four years had seen 15.5 million square feet of new office construction, with another 1.3 million square feet in 1992—much of it "spec"). That said, the vacancy rate began trending lower throughout the first Clinton term, though there was no spark regarding rents.

1996 – Clinton: 13.8%/$27.08

The second Clinton term was a hot period for New York City and especially the Manhattan real estate market, with financial services competing with tech firms for office space (this first tech boom would go bust in 2001). Vacancy rates plummeted to some of the lowest levels on record, at just above 4 percent, while the average asking rent almost doubled to $50, both by mid-2000.