TechLaw Solutions Moves to 270 Madison Avenue
---
---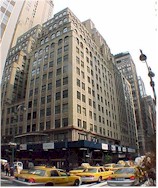 TechLaw Solutions has inked a deal at 270 Madison Avenue.
The law solutions firm will be moving their New York office down the street from 400 Madison Avenue to the ABS Partners Real Estate-owned 270 Madison Avenue. The new lease is set to span 6,106 square feet on the fourth floor of the building, approximately 500 square feet larger than the firm's previous office.
"We were initially looking for short term subleases," said a source familiar with the deal. "But ABS had a brand new pre-built ready and the firm decided that it would be smart."
"We had a tenant that, in 2012, vacated the third an fourth floor," said Doug Regal, a broker at ABS Partners Real Estate. "We ultimately decided that the best way to proceed was to change the fourth floor to three pre-built offices."
"We've had tremendous activity," Mr. Regal added. "We leased the first two suites before construction was finished. Then as soon as we finished it, we had TechLaw."
"The third floor is the only remaining vacancy in the building," he said. "We hope to have a very similar program for three pre-builts. It will be completed in the first quarter of 2013."
The asking rent for the fourth floor was in the low to mid $40s per square foot. Mr. Regal noted that the third floor will be the same as well.
Mr. Regal represented the landlord, ABS Partners Real Estate. Peter Gross, a broker at Williamson, Picket, and Gross, represented the tenant, TechLaw Solutions, in the transaction.