Santander Unloads 45 East 53rd Street for $120M
---
---
Spanish banking giant Santander has sold 45 East 53rd Street in Midtown for $120 million, city records show.
The 130,000-square-foot, 20-story modern glass and stone building serves as the bank's New York headquarters.
Alex Kurkin, an attorney with Florida-based law firm Kurkin Forehand Brandes, signed off on the deed for the buyer, which was listed as Kireland East 53rd Street New York, LLC in city documents.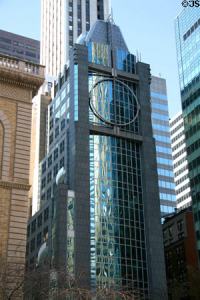 "All I can say is that Santander was a pleasure to deal with and everyone involved allowed this transaction to be concluded to both sides' satisfaction in an unbelievably short period of time," Mr. Kurkin wrote in an email sent to The Commercial Observer.  "It is a beautiful building ideally located in the city."
Mr. Kurkin declined an opportunity to identify the buyer.
Rumor that the bank was looking to sell the property swirled earlier this year in March, as jitters over the Eurozone crisis were in full swing.
At the time, sources said Santander was handling the property's marketing in-house, rather than through a sales brokerage (customary for large institutions), and that the bank would continue occupying the property.
Mr. Kurkin worked with Richard Kalikow, a New York partner with law firm Diamond McCarthy, on the transaction.  Mr. Kalikow did not return calls seeking comment.
One of the biggest financial institutions in the world, Santander is better known in the U.S. through its retail banking subsidiary, Sovereign Bank.  A message left in a general voice-mailbox for the bank was not returned.