Murphy Burnham & Buttrick Renew in Midtown
---
---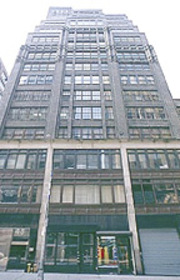 Murphy Burnham & Buttrick LLP has inked a renewal in Midtown.
The architecture, planning and interior design firm will continue to operate out of their office at 48 West 37th Street. The firm has occupied an office of 6,777 square feett that spans across the full fourteenth floor for the past 10 years.
"The building is unique in that there are more than three sides of light," said David Levy, a principal at Adams & Co about the building. "It's very unique. The building attracts a lot of architectures."
The building is designed with loft and creative layouts that have attracted notable architectural firms such as John B. Murray Architect, Antonelli Architects, and Leyva Ismael Architect PC in addition to Murphy Burnham & Buttrick.
Mr. Levy is the exclusive broker for 48 West 37th Street and represented both parties in the transaction, Murphy Burnham & Buttrick and Forty Eight Thirty Seven Associates.
The asking rent was set at $38 per square foot for the office space. The building, which spans 18 stories and 170,000 square feet, ranges in asking rent from mid to high $30s per square foot with average floor-plates around 9,000 square feet.
The building is nearly fully occupied with two spaces available on the second and seventh floor for 5,296 square feet and 8,901 square feet, respectively.
Murphy Burnham & Buttrick have an extensive portfolio that ranges across industries including education, institution, and commercial, working with clients such as New York University, ABC News, the Archdiocese of New York, and Columbia University.