Mortgage Observer Weekly: Sign Up Now
---
---
The Mortgage Observer Weekly launched this morning! Our new, weekly emailed newsletter will deliver the latest commercial real estate finance news directly to your inbox each Friday morning.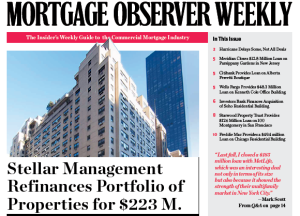 The perfect companion to The Mortgage Observer magazine, this newsletter gives readers the latest transaction news, informative charts, Q&As and more delivered directly to your inbox. If you didn't get it this morning, here's just a glimpse at what you missed:
Our exclusive on the syndication that's in the works for the $280 million Capital One Bank and Bank of America financing of 616 units at Riverside Center in New York.
New York Community Bank's $223 million refi of a Stellar Management portfolio of properties, also exclusive to The Mortgage Observer Weekly.
For a six-month trial subscription please visit our signup page. And please download our maiden issue here: Mortgage Observer Weekly, 11/09/12.