Legal Group Appeals to Judge for Extension of Eviction Moratorium
---
---
A consortium of legal groups is pleading with a city judge to extend the moratorium on post-Sandy evictions that was lifted yesterday.
The group of 19 organizations, led by MFY Legal Services, sent a letter to Deputy Chief Administrative Judge Fern Fisher yesterday asking that she extend the moratorium until Jan. 1.
"We were dismayed to learn that, less than a month after Hurricane Sandy hit, the moratorium on residential evictions is being lifted," the letter states.  "With the city's infrastructure still reeling, we respectfully request that you reconsider lifting the moratorium."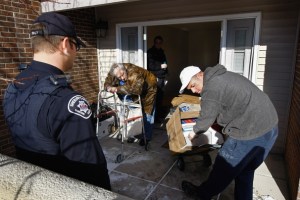 A spokeswoman for New York City Marshal Richard McCoy, who announced an extension on the moratorium earlier this month, confirmed that the residential ban ended yesterday, with the exception of Lower Manhattan, Red Hook, in Brooklyn, and Far Rockaway, Queens.   The moratorium on commercial tenants was lifted early last week, she said.
New York City Marshals are appointed by the Mayor to physically carry out evictions, supervising the removal of tenants' belongings and making sure entry locks are changed.
On Nov. 14, The Commercial Observer reported that Mr. McCoy had announced that all evictions would be suspended through that week as a result of Hurricane Sandy; to the dismay of tenant rights groups, New York City landlords vented their frustration with the extension, showing what some perceived as little mercy for storm victims.
City Council Member Daniel Garodnick is among those venting supporting the legal groups' in these latest efforts to extend the moratorium.
"We were in the midst of a serious housing crisis in this city even before the Hurricane hit," Council Member Garodick said in a prepared statement.  "Our city shelters are full, even without the thousands of those displaced because of the storm.  Let's give people just a little more time to get on their feet.  To resume evictions when we know families will have nowhere to go is callous and irresponsible.
A message left with Judge Fisher and her chief of staff was not returned, so it was not clear if the letter from MFY Legal Services will lead to any reconsiderations.
But a message that appeared today on the New York City Civil Court's website stated clearly that city marshals "will resume normal activity, including residential evictions in buildings where essential services are operational."
However, there may be hope:  similar pressure placed on the New York City Housing Authority this month by tenants and local officials led to a promise by the Authority not to evict tenants through the end of the year, when rent credits are scheduled to kick in, the New York Daily News reported last week.