Leasing Sluggish Along Sixth Avenue in Rockefeller Center Submarket
---
---
Built by the Rockefeller family in the 1930s, Rockefeller Center is one of the largest commercial real estate developments to be built in the past century. Initially spanning approximately two dozen buildings, 22 acres and over 8,000,000 square feet, the district has further expanded in recent years to include a few dozen additional buildings along the Sixth Avenue corridor.
"There has also been a significant slowdown of leasing along the Sixth Avenue corridor, particularly Class A leasing, where leasing in the first half of 2012 was about half the long-term average," said Melissa Bazar, an executive director at Cushman & Wakefield. "Since the Sixth Avenue corridor is dominated by large corporate users and financial firms, we expect leasing to remain sluggish through the balance of 2012, below the long-term average."
Inventory has increased from 9.3 percent to 10.5 percent this past year, according to Cushman & Wakefield's third-quarter report.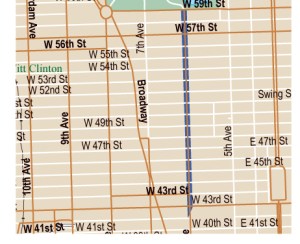 The slowdown came after the end of last year, when Deloitte, one of the largest accounting services firms in the world, inked a deal at the famous 30 Rockefeller Center. The deal, set for 18 years, will span more than 400,000 square feet. Nearly 5,400 new employees will join the firm at its new global headquarters.
The international law firm Chadbourne & Parke also leased a 200,000-square-foot office at 1301 Avenue of the Americas.
"I think that Rockefeller Center has defied all the predictions of technological obsolescence," said Michael Cohen, president of Colliers International's tristate regional office. "It remains a premier address and attraction for many tenants."
Asking rents have generally stayed within the mid-$70s on average; broken down by class, they are in the high $30s for Class C, low $50s for class B, and Class A in the $70s.
Despite the slow activity, several new developments and renovations are set to come to the district within the next few years.
"One of the likely new developments will be the renovation of 75 Rockefeller Plaza. Time Warner, when the lease runs out, will be part of the renovation too," Mr. Cohen added. "That building will most likely be empty in 2014 and will be renovated. My prediction is that it will be very attractive."
Ms. Bazar also added that vacancy will likely go higher as more space at 1221 Avenue of the Americas and 1185 Avenue of the Americas becomes available upon lease expirations for Societe Generale and RSM McGladry, respectively.
Additionally, Gary Barnett's International Gem Tower, a 34-story building mix of commercial condominiums on the lower levels and offices starting at the 23rd floor, is expected to be completed by the first quarter of next year, officials have said.
1185 Avenue of the Americas
,
1221 Avenue of the Americas
,
1301 Avenue of the Americas
,
30 Rockefeller Center
,
75 Rockefeller Plaza
,
Chadbourne & Parke
,
Colliers International
,
Cushman & Wakefield
,
Deloitte
,
Gary Barnett
,
International Gem Tower
,
Melissa Bazar
,
Michael Cohen
,
Rockefeller Center
,
Societe Generale and RSM McGladry
,
Time Warner