Julie Vos Grabs New Showroom in Midtown
---
---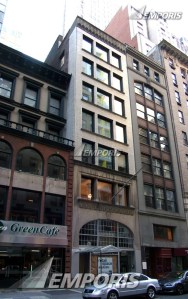 Jewelry designer and retailer Julie Vos has inked a deal in Midtown.
The company will take a 2,500-square-foot office that spans the entire fifth floor of 12 East 44th Street.
"Julie was drawn to 12 East 44th Street for not only its convenient location, but the ability to have her own private floor in the building," said Chelsea Merrifield, an associate at Capstone Realty and broker on the transaction. "Other alluring factors were the large windows and creative installations—glass offices and conference room."
"The office space generously accommodates her growing company," she added.
The asking rent for the space was $44 per square foot. The asking rent in the building range from low to mid $40s per square foot, with higher floors being a few dollars more expensive than lower ones.
"Julie Vos's collection of jewelry designs includes luxurious pieces at affordable prices for everyday wear," added Ms. Merrifield. "Her color and texture combinations make the pieces easy to wear and collect."
The collection started in 2006 in a showroom and boutique on the Upper East Side and has expanded to be included in several stores in the United States like Accents of the South, Fleur De Lis, Citrus, and Vail Village Antiques.
A leasing pair from Lee & Associates consisting of executive managing partners and principals Dennis Someck and Mitchell Kunikoff represented the landlord, Tristar Realty. Ms. Merrifield represented Julie Vos.
Brokers at Lee & Associates declined to comment on the deal.
"It was an absolute pleasure working with Julie and her team!" added Ms. Merrifield.—