Highcap Group Arranges $33M Sale of Two SoHo Buildings
---
---
Real estate investment and brokerage firm Highcap Group has arranged the $33 million sale of 69 and 71-73 Greene Street, two adjacent mixed-use properties in the SoHo Cast Iron Historic District.
The properties feature 76 feet of frontage along Greene Street, and the 5-story buildings make up a combined 33,000 square feet, split evenly between the two.
Two retail tenants, furniture store Bo Concept and clothing retailer Onassis, occupy 3,300 square feet at each address; and there are eight residential lofts above.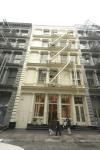 Highcap's Christen Portelli and Michael Ferrara, managing principal and investment sales associate, respectively, represented both the buyer and seller on the transaction.
"The open loft floor plan allows for many options for the buyer if they reconfigure or renovate in the future," Ms. Portelli stated in an email to The Commercial Observer.
The sales team rushed to complete the transaction before the end of the year in the wake of Hurricane Sandy as capital gains increases loom.
"The storm made communication with all parties incredibly difficult, as most did not have power in their home and office; cell phone service was limited, and coordinating signatures when email is down became a challenging task," Ms. Portelli said, adding that all parties involved were "reminded that Mother Nature is in control."
Imminent capital gains increases were a driver in getting the sale complete by the end of the year, Ms. Portelli said, noting that "capital gains taxes could essentially double in 2013, which could have negatively affected the seller."
While Portelli was unable to disclose the buyer's name, citing a confidentiality agreement, the firm stated that the properties were family owned since the early 1900's and later purchased by a local investor.
Deeds filed with the city show that 69 Greene Street traded hands in 1969; that file did not indicate a selling price, but a deed from 1970 indicates that, at the time, 71-73 Greene Street was sold for $950,000.