BR Guest Leases Former Fiamma Space, Maybe To Former Fiamma Chef Michael White
---
---
Things might be coming full circle in the kitchen at 206 Spring Street, the former home of the Italian restaurant Fiamma. Blue chip restaurateur Stephen Hanson, whose BR Guest Hospitality empire includes Atlantic Grill, Blue Water Grill, Dos Caminos, Ruby Foo's and Strip House, sold the five-story Soho building last week for an undisclosed price to Corigin Real Estate Group.
Now, the rumor mill is working overtime with buzz that Corigin leased the building's three restaurant floors to Altamarea, whose co-owner, Michael White, was the original chef at Fiamma in 2002 before falling out with Mr. Hanson. When The New York Observer covered the opening of Mr. White's Marea, restaurateur Scott Conant would only say that, "[Mr. White] had a situation with [Mr. Hanson], and could no longer work with him."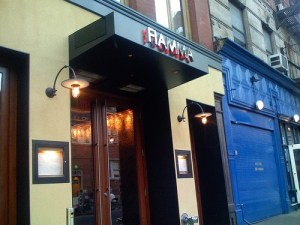 In addition to Marea, Altamarea's portfolio includes the acclaimed restaurants Ai Fiori and Osteria Morini. Fiamma shuttered in 2009 at the depths of the Great Recession despite critical raves. Its closure made big waves in the restaurant blogs as a prime example of the struggles facing upscale restaurants once replete with Wall Street high earners and their corporate cards. (In March of 2008 Fiamma was charging $120 for its five-course prix fixe menu.)
Since 2009 BR Guest has used 206 Spring Street as a catering and events space. Sources told The New York Post's Steve Cuozzo that Mr. White has been "in and out" of the building. Meanwhile, Eater.com speculates that the Soho address could house a rumored steakhouse project from Mr. White and Ahmass Fakahany, the co-owner of Altamarea.
Mr. White, typically a critics' darling, hit a snag this summer when The New York Times restaurant critic Pete Wells panned Nicoletta, his East Village pizzeria, awarding it zero stars. A return to fine dining at the address that made him a culinary star could prove tantalizing and confirm that Mr. White "took on all of [Mr. Hanson's] great business qualities"  during their working relationship. An Altamarea spokesperson could neither confirm nor deny that the company had signed a lease at the space.
Anyone know what's moving into the old Fiamma space or what Michael White has planned for his next restaurant? Email tips@commercialobserver.com. As always, your personal info will remain anonymous.
206 Spring Street
,
Ai Fiori
,
Altamarea
,
BR Guest Hospitality
,
Corigin Real Estate Group
,
Fiamma
,
Marea
,
Michael White
,
Nicoleta
,
Osteria Morini
,
Steve Hanson