Key Apparel Inc. Relocates Within Garment District
---
---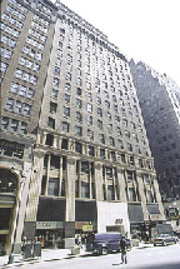 Key Apparel Inc. is set to relocate within the Garment District, brokers said.
The wholesaler and manufacturer of sportswear, currently located at 45 West 34th Street, will over a few avenues to 463 Seventh Avenue. The company will take a 3,852-square-foot office on the sixth floor of Arsenal Company's building.
Key Apparel plans to utilize the space to house general and executive offices as well as a showroom.
"It's really one of the few buildings that are dedicated to apparel," said David Levy, a principal at Adams & Co. Real Estate. "It used to be mostly outer weigh,t but it has changed to mixed. Some men's, some women's, some childrenswear. Even some very expensive. It's become a mixed bag of apparel."
Mr. Levy is no a stranger to the neighborhood and has exclusively represents several buildings in the Garment District including the Menswear Center at 42 West 39th Street and the Childrenswear Center at 34 West 33rd Street and, of course, 463 Seventh Avenue. Brokers from BNSK Real Estate and Sinovsky Real Estate were representing Key Apparel in the negotiation.
The asking rent for the office was $39 per square foot and the lease duration was set for five years.
"We are fully occupied," said Mr. Levy.
The building recently closed on two deals that brought the building to 100 percent occupancy. 463 Seventh Avenue boasts a strong tenant list including Redcats USA, Bernado Fashion, and G-111 Apparel Group as well as a Federal Express and Andrew's Coffee Shop on the ground floor retail space.