44 of 183 Class A and Class B Buildings in Lower Manhattan Remain Closed
---
---
Thousands of people who work in Lower Manhattan have yet to return to their offices, due to the power outages and flood damage caused by Hurricane Sandy.
As of today, 44 of 183 Class A and Class B building stock remained closed in Lower Manhattan, according to the latest data from Jones Lang LaSalle.
That accounts for 32.8 percent of the total 101,175,754 square feet of inventory.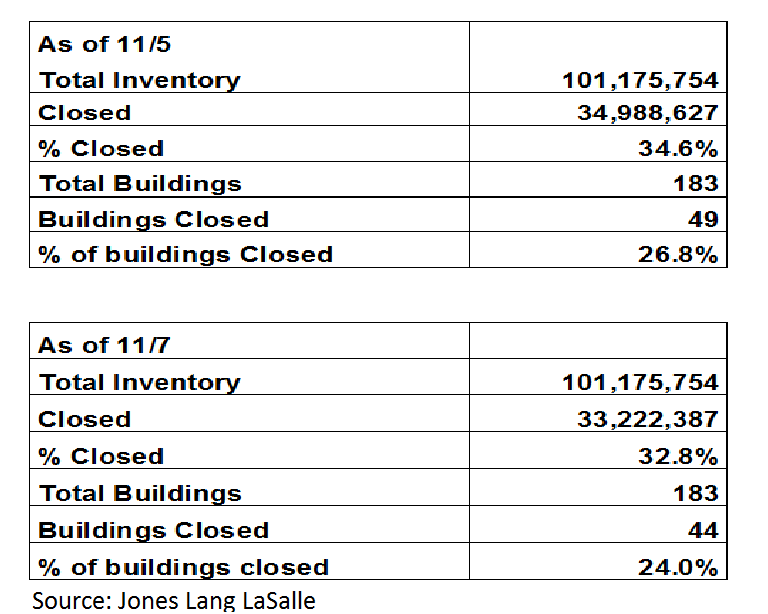 But five buildings have re-opened since Monday, when 49 buildings were closed, the data shows — a positive sign owing to stark changes that have occurred on the ground, said John Wheeler, a managing director with JLL.
"There's been a surprising amount of improvement and activity that has really snapped things back to what looks very normal at the street level," Wheeler said.  "The streets themselves are dry and debris free.  It's quite the contrast from what we saw last week."
The pace of building coming back online will likely pick up in the coming days, he added.
"We're witnessing a matter-of-fact, workman like response from owners who are acting quite effectively… and there's been a very measured response from tenant side as well," he said.
Buildings that are only allowing tenants to enter on an emergency basis were counted among the closed.