Worldwide Plaza Bids Coming in Slightly Below George Comfort's Lofty Targets
---
---
Bids for Worldwide Plaza are coming in below the sky-high projections sellers George Comfort & Sons and RCG Longview had hoped for when the partners (finally) put the nearly two million-square-foot office tower on the market in recent weeks.
Several sources familiar with the bidding process say that potential buyers who have stepped forward have so far offered around $1.5 billion for the property, which George Comfort and its partner purchased at the depths of the recession for around $600 million in 2009.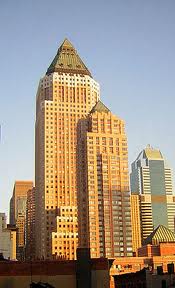 The sellers, who have tapped a team from Eastdil Secured to market the property, had wanted to receive around what investor Harry Macklowe paid for the building in 2007, when he scooped up the tower as part of a $7 billion portfolio deal that valued the property individually at over $1.7 billion.
Wordwide Plaza, a 59-story skyscraper on 50th Street and Eighth Avenue, was masterfully filled by George Comfort when, last year, the company managed to lure the Japanese financial company Nomura from Lower Manhattan into a roughly 800,000-square-foot office lease at the tower.
Because the property is near full, a buyer would acquire Worldwide Plaza for a fixed rate of return. The building's value, sales experts say, is hence closely tied to the credit of its occupants.
Earlier this year however, Nomura's credit was downgraded by Moody's to the lowest rating among a group of 17 major financial institutions the ratings agency evaluated at that time. Even the building's other major tenant, Cravath, Swain & Moore LLP, which is widely regarded both as one of the most prestigious and profitable law firms in the world, has prompted some potential buyers, sources say, to scrutinize what rate of return they would require to take a chance on the huge investment. The uncertainty surrounding such a gold-plated tenant traces to earlier this summer, when the large law firm Dewey LaBoeuf imploded, creating both shock and questions in the legal industry.
Worldwide Plaza wouldn't be the only building in recent months to miss ambitious pricing expectations. Last year Beacon Properties unveiled 1211 Avenue of the Americas to the market seeking around $1.7 billion or more for the tower but only received offers hundreds of millions of dollars below that mark. Unhappy with the bids, the company eventually pulled the property from the auction block.
Even if George Comfort and RCG Longview sell Worldwide Plaza for around $1.5 billion, the investment would be a tremendous success given the low value the pair bought into.
"They would be hitting the ball completely out of the park no matter what they sell it for," one investment sales broker said.