Taconic Close to $110 Million Deal for 619 West 54th Street
---
---
Taconic Investment Partners is acquiring the office building 619 West 54th Street for around $110 million in a bet Manhattan's fast changing West Side will continue north to an area that, until recently, has been largely overlooked as a desirable commercial neighborhood of the future.
"Go all the way up the West Side," said Paul Pariser, who is a co-CEO of the firm along with Charles Bendit. "Tribeca is fabulous, Hudson Square is great, the Meatpacking District and Chelsea are booming, then there is the High Line and Hudson Yards and north of that there has been tons of residential development."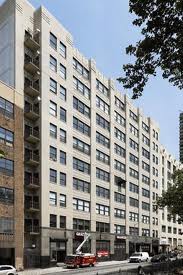 The neighborhood on the far West Side above 50th Street has been an overlooked enclave best known perhaps for the row of large car dealerships clustered along 11th Avenue. But like so many other areas on the West Side, it has been changing. The development firm Two Trees is nearing completion of Mercedes House, a large new rental apartment building that has been hailed for its striking architecture, on 53rd Street and 11th Avenue.
Taconic itself is involved in building a residential rental project nearby at 525 West 52nd Street.
Though the far West Side in the 50s is without convenient subway access, Mr. Bendit said the development of apartments in the area has created a population of residents that he and Mr. Pariser feel will come to prize the convenience of working in an nearby office building and will boost the neighborhood's prospects of becoming a more popular commercial district.
"We just believe in the area and the growth along the 11th Avenue corridor," Mr. Bendit said. "It has a growing population of residents nearby and we feel that a building like 619 West 54th Street caters to that change."
Taconic has made a name for itself by investing early in areas that vastly appreciate, particularly on the West Side. The company acquired 111 8th Avenue years ago and sold it early last year to Google for a whopping $2 billion. It also has made several investments in the Meatpacking District that proved to be highly successful.
The company will acquire 619 West 54th Street, which is roughly 326,000 square feet in size, from KBS Realty Advisors in a deal brokered by a sales team at Jones Lang LaSalle, led by Richard Baxter, a vice chairman at that firm.
"We think it's a very fine physical building, it has a lot of the bones of a building like 111 8th Avenue, it's built for industry, a big concrete structure with high ceilings and wonderful light," Mr. Pariser said.
Mr. Pariser said Taconic will likely renovate the building but that the scope of that work had not yet been finalized.