Sale of City Hall Buildings Snagged
---
---
A city proposal to sell three lower Manhattan buildings, potentially converting 750,000 square feet of outmoded office space into luxury housing or hotels, has run into objections from community representatives in the City Hall area, who argue that the plan should have included provisions for a school, community center or affordable housing.
The City Council's subcommittee on planning, dispositions and concessions plans a hearing next week on the disposal of the properties at 22 Reade Street and 49-51 Chambers Street. Disposition of the third building in the package, at 346 Broadway, was approved in 1998. Mayor Michael Bloomberg announced the sale in January as part of a drive to make the city more efficient by consolidating its office spaces.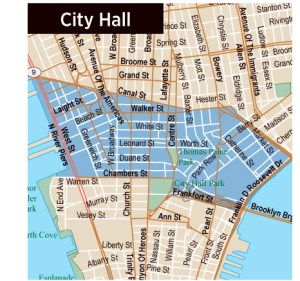 The properties are located in the City Hall submarket, which consists 51 office buildings with an overall vacancy rate of 2.3 percent, the lowest in Manhattan, according to third-quarter data from Cushman & Wakefield. People familiar with the three buildings estimated they could bring in anywhere from $187.5 million to $600 million. Currently, 49-51 Chambers Street and 346 Broadway contain offices for the Board of Corrections, the New York Police Department, the Department of Education and Manhattan Community Board One, while 22 Reade Street is home to the NYC Department of City Planning. The plan is expected to save the city $85 million in capital costs and provide additional net annual benefits of $4.6 million.
A tour of the sites in May attracted representatives from more than 40 real-estate-related companies, including Vornado Realty Trust, Toll Brothers, United American Land LLC, TF Cornerstone, Zar Property NY and Kushner Companies (the last of which is run by Jared Kushner, the owner of The Commercial Observer). A deadline for proposals expired in August.
22 Reade Streett
,
346 Broadway
,
49-51 Chambers Street
,
City Hall
,
community board 1
,
Cushman & Wakefield
,
Jared Kushner
,
Kushner Companies
,
Margaret Chin
,
Michael Bloomberg
,
Scott Stringer
,
TF Cornerstone
,
Toll Brothers
,
United American Land
,
Vornado Realty Trust