Midtown Class A Rent Makes Leap
---
---
The Midtown Class A average asking rent, defying a rather weak leasing market, jumped 2.4 percent in the third quarter to close at $76.75 per square foot and is now at its highest since attaining $80.70 per square foot in January 2009.
It has risen in each of the three quarters thus far in 2012 and is up 8.3 percent year-to-date. Furthermore, each of the five Midtown submarkets has seen a rise this year (some quite substantially).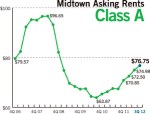 The Midtown Class A figure bottomed out most recently at $63.87 per square foot in September 2010 (well after the official close of the U.S. recession in June 2009). It remains, however, far from its record high of $99.22 per square foot in May 2008.
The real point of this charming little column though: with gross leasing sluggish and net absorption for Midtown Class A space in negative territory for the year, how can rents continue to rise? A tenant in the market may think landlords have lost their minds. But alas, that's not the case (for most). It boils down to what type of space has been added to availability.
Generally, it has been substantial blocks in the Plaza and Rockefeller Center submarkets (especially in properties along Fifth Avenue and the Avenue of the Americas), sometimes in the tops of those trophy towers and priced at figures from $70 and up (way up). Additionally, it is space at lower price points that has been "moving." This explains the higher asking rent in a still-struggling segment of the Manhattan market. Lesson over, class dismissed!
Robert Sammons, Cassidy Turley