IPG Completes Big Third Avenue Deal
---
---
Interpublic Group has signed a 220,000-square-foot lease at 909 Third Avenue according to people with direct knowledge of the deal.
The large advertising and media conglomerate will move several subsidiaries it controls to the new space, the largest of which will be Weber Shandwick, a major public relations firm, which will relocate from nearby 919 Third Avenue.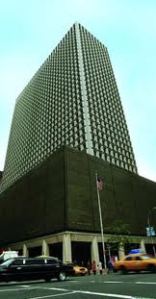 The deal pitted two of the city's largest commercial landlords in a fight for IPG at a time when big leasing transactions have slowed in the city, especially along Third Avenue, a periphery of Midtown that often experiences market downturns and blips harder than other areas.
SL Green owns 919 Third Avenue and Vornado, a rival real estate investment trust, is the landlord of 909 Third Avenue. Vornado had been marketing space at its building for about three years, a source said, noting that the avenue has several large vacancies that have created tough competition.
In the end, Vornado cut IPG an economical deal in the $50s per square foot for the space at 909 Third Avenue while allowing the company more room to grow than 919 Third Avenue could accommodate, a source said.
There were also other perks.
909 Third Avenue is known for having an unusual feature for a Class A office tower; a large post office in its base. Above that however, the office floors are set back, creating a spacious outdoor terrace that will connect to IPG's space and that it will be able to exclusively use.
IPG will take floors five through nine, 11 and 19 in the deal.
IPG is already a tenant of Vornado's. The company has several hundred thousand square feet at 100 West 33rd Street, another building the REIT owns.
Neither IPG nor Vornado could be reached for comment.