Cushman Retail Team Bullish on Lower Manhattan Leasing
---
---
The list of luxury retailers jockeying for space in Lower Manhattan the past several years, particularly along Wall Street, has been impossible to miss. The same holds true for investment in residential in the area, with Rose Associates taking on the former AIG headquarters at 70 Pine Street, 8 Spruce Street standing tall and the upper floors of the Woolworth Building even potentially on the verge of being transformed into luxury condos. All signs point to retail having a moment. Sensing the trend three and a half years ago, a team from Cushman & Wakefield installed itself in the middle of it all. Senior Directors Michael Stone and David Tricarico and Senior Associate Carl Wunderlich spoke to The Commercial Observer last week from their office at 100 Wall Street.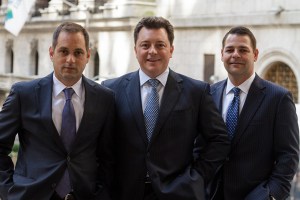 The Commercial Observer: Can you tell me a little bit about the retail team here?
Mr. Stone: We've been with Cushman & Wakefield a little over seven years, our team. About three and a half years ago, we were asked if we wanted to come down to the Wall Street office and establish a retail presence in our Lower Manhattan office. We have a strong office leasing component down here, and they've traditionally, for the past 40 or 50 years, dominated office leasing in Lower Manhattan, and we thought, based upon the fact that high-end retail deals were starting to get done on Wall Street and Broad Street, that it was a good idea for one of the big firms—and ours especially—to move a team down here. So we decided, because our practice area is really throughout the city, and we need some mobility and flexibility, that it was a good idea to assist the company in expanding retail.
How often do you have to go back and forth to headquarters?
Mr. Stone: We have meetings in Midtown all the time, both for clients off site and with our colleagues in headquarters. We look at this as an opportunity to service our office brokers who represent agencies down here and may need our assistance in valuing the retail component of an office building they represent—we've done that in a number of buildings, and we've actually completed transactions as a result of that. But also it's an expansion of our current practice, which is Midtown, Soho—throughout the city, and Lower Manhattan's just another CBD in the city. I think I speak for all of us—it's been an enjoyable move for us.
You mentioned that the idea came to move down here as some high-end retail stores were opening. What were some of those at the time?
Mr. Stone: You can see Tiffany's on Wall Street and Canali on Broad Street and Hermès on Broad Street. There is an expansion of retail globally into markets, and the Financial District is a huge market for some of these retailers. There's an emerging residential component down here. Obviously the office market is strong and continues to be strong, and I think retailers recognize that Lower Manhattan is someplace that they need to be.
Mr. Tricarico: The timing just made sense. Between Downtown becoming more than just a service-oriented retail spot, with Duane Reades and banks and a couple of restaurants, there was the luxury part of it. But also there's a massive amount of investment happening in Lower Manhattan. Since the 9/11 attacks, there's the World Trade Center development, there's the MTA development, there's Brookfield's redevelopment of retail. There's also a massive amount of residential population moving down here.
Who are some of the clients that the three of you are representing in their search for space Downtown?
Mr. Stone: We represent UDR, which is a publicly traded REIT. And they recently purchased 95 Wall Street and 10 Hanover, which are down here. They were office buildings converted to residential. We've done three transactions with them in the last 12 months—everything from replacing the Goldman Sachs corporate gym with a 30,000-square-foot full-service gym to repositioning their parking garage across the street. We've done a deal on Wall Street for Chase Bank, Potbelly on Maiden Lane, and we've done a number of transactions throughout the city that don't include the Financial District. We do a lot of retail analysis for the office brokers down here. But C&W as a whole, we represent 23 Wall. C&W has a number of agencies down here, and we're here to support any knowledge that they want. Because we operate in a collaborative retail team—about 25 to 30 brokers now. Collaboration amongst the different retail teams is helpful.
What percentage of your work is in Downtown and what percentage is outside?
Mr. Stone: It ebbs and flows. In terms of percentage, we currently represent a large portfolio for the LeFrak Organization. So if you actually put our numbers on paper, we're doing a lot of work in areas through the boroughs and New Jersey for LeFrak, and that kind of skews our numbers. But we've done this year, out of maybe 200,000 or 300,000 square feet of space that we've leased, probably 60,000 to 80,000 of that was in the Financial District.
Mr. Tricarico: If you put landlords that we represent and where they are, then it's probably a higher percentage, but if you do it by square footage, it's a higher percentage outside of Lower Manhattan. But each individual landlord, because LeFrak takes up such a massive amount of square footage, they would skew it if you did it that way.
Mr. Stone: We're doing about half a dozen renewals for Chase Bank, one of which is already completed down here and another of which we have a lease out [on] down here.
What are some of the most recent leases that you have signed?
Mr. Tricarico: We'll go in reverse chronological order. What we can talk about is the Chase deal at 45 Wall—that was closed in June. It was 9,000 feet. We can talk about another deal that closed in June, the Complete Body Fitness Gym—which is at 10 Hanover—that was 30,000 feet. We did Sarar in between—that was in the spring. After that we did a deal with Quik Park that was at 95 Wall for 20,000 feet. That was in the first quarter of this year. We currently have a deal that we're going to announce sooner or later—hopefully next week. We're also in the process of marketing a very, very large piece of space adjacent to the World Trade Center. We just can't get into it just now.
What areas, in terms of leasing for retail, are hottest right now Downtown? For a while, there was talk of a stretch along Broadway. Has that come to fruition?
Mr. Wunderlich: Well I think Broadway continues to be a very tight market. There's a lack of space, and there are a lot of competing tenants for good space on Broadway. There's also a lot of construction on Broadway, so that doesn't help the supply. There will be in the future some more space that's coming online.
What tenant categories have been all over the market?
Mr. Wunderlich: The whole QSRs—quick-serve restaurants—from that category being super hot, to men's apparel. You get a lot of interest because of the residential component from gyms.
45 Wall Street
,
70 Pine Street
,
8 Spruce Street
,
AIG
,
Brookfield
,
Carl Wunderlich
,
Chase Bank
,
Cushman & Wakefield
,
David Tricarico
,
Michael Stone
,
QSR
,
World Financial Center
,
World Trade Center