Allied Partners Gets $200 Million Loan on 568 Broadway
---
---
Allied Partners has obtained a $200 million mortgage on the Prince Building at 568 Broadway, Eric Hadar, chairman of the company, confirmed to The Mortgage Observer. The crowd of companies such as Foursquare and ZocDoc, which have turned the building into one of the main centers of New York startup scene, will soon have a rooftop garden for their events, which will be paid for with part of the new loan.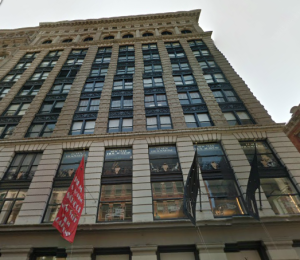 "We are trying to reinforce the building's reputation as the number one office building in the Soho market," Mr. Hadar said. Built in 1897, the 300,000-square-foot building, located on the corner of Prince Street and Broadway, is currently 100 percent leased to tech and fashion companies, which will soon enjoy the planned improvements.
Cantor Commercial Real Estate provided the 10-year, fixed-rate financing. Part of the loan will refinance some of the equity, and an undisclosed part will cover the cost of the renovations, which has not been determined yet. By the first months of 2013, the building will feature a rooftop garden with catering facilities for corporate parties and events. "We discussed it with some of the tenants who are very excited about it," Mr. Hadar said. Currently, the Prince Building doesn't have an entertaining space. The landlord thought that the crowd of "young people who spend a lot of time there," will appreciate the new facility, Mr. Hadar added.
As part of the planned renovation, the lobby will be renovated and the security systems will be upgraded.
apirolo@observer.com