Robinson & Cole is Moving to the Chrysler East Building
---
---
In need of more space, the law firm Robinson & Cole is moving ten blocks South from its current location at 885 Third Avenue, between 52nd and 53rd Streets, to the Chrysler East Building at 666 Third Avenue between 42nd and 43rd Streets.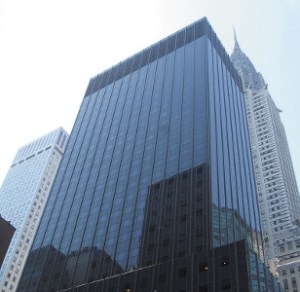 In the spring 2013, the firm will expand from the 11,864 square feet which it has occupied for the last nine year to a 18,478-square- foot office, as The New York Post first reported. The new office will occupy the entire 20th floor of the office tower. The asking rent is said to be in the mid-to-upper-$60s a foot.
The new and larger space is particularly appealing for the well connected location, which is just next to Grand Central, Steven Elbaum, a partner with Robinson & Cole, said. Currently the New York office of the firm has 15 lawyers, but the number is in the process to "increase by two-third," said Mr. Elbaum. The new hirings are for the corporate and litigation practice, he explained.
Established in 1845, Robinson & Cole has approximately 225 lawyers in nine offices serving regional, national, and international clients, from start-ups to Fortune 500 companies. It is ranked among the country's 200 largest law firms.
The 770,000-square foot Chrysler East Building was built in the 1950s and is connected to the iconic Chrysler Building. Since 1998, Tishman Speyer Properties has owned the two towers. The company is the owner of other New York iconic buildings such as the Rockfeller Center and the MetLife building.
Greg Taubin and Craig Lemle of Studley, along with Andy Filler of RM Bradley represented Robinson & Cole on this deal. Greg Conen of Tishman Speyer Properties handled the deal in-house for the landlord.
apirolo@observer.com