Private School Buys Two Upper East Side Townhouses
---
---
The Upper East Side Buckley School has bought itself a $16 million back-to-school gift with the purchase of two townhouses facing its main campus on 73rd Street, between Lexington and Park Avenues. Diane Procter, the former owner of one of the two properties and the real estate broker who arranged the deal confirmed the sale to The Commercial Observer.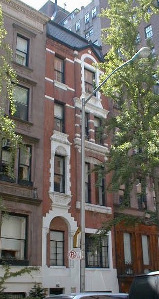 In the late 19th century the architectural firm Thom & Wilson designed the two buildings, at 112 and 114 East 73rd Street, as a part of a group of six townhouses in  the Queen Anne and neo-Renaissance style according to Ms. Procter, herself an architect.
"It is a wonderful 120-year old building that was built as a single family house and that was converted into a seven-family building after the war," Ms. Procter said of the townhouse at 112 East 73rd Street where she has been living since purchasing it in 1994. The building was on the market three years ago for over $12 million. The Buckley School bought it and the adjacent townhouse for $8.3 million each. The five-story buildings are of approximately 5,000 square feet each.
Representatives of the school declined to comment, but according to Ms. Procter, the buildings will be turned into science and music labs. Established in 1913, Buckley is an all-boy private school and currently has over 300 students from kindergarten to ninth grade.
"I like the idea that I sold the townhouse where I've lived for the last 20 years to the larger family of the Buckley School," said Ms. Procter. The owner of the townhouse at 114 East 73rd was the late Joseph Sheehan, the founder of the investment company J.E. Sheehan & Company and an honorary consul general of Austria.
apirolo@observer.com