Morgan Stanley Provides Loan on 15 Central Park West Retail Unit
---
---
Morgan Stanley has provided a $125 million mortgage on the retail portion of 15 Central Park West, the ultra luxurious condo where Lloyd Blankfein, CEO of Goldman Sachs, and many other influential bankers live, The Mortgage Observer has learned.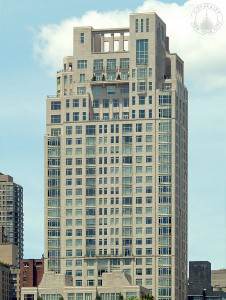 The tower, which architect Robert A.M. Stern designed, owes its fame to apartments sold for record-breaking sums of money. Most recently, a Russian tycoon bought a penthouse for $88 million. The developers, Arthur and William Lie Zeckendorf, have maintained the ownership of the retail space on the ground floor through a controlled company. Among the tenants are Best Buy and West Elm.
Morgan Stanley has provided on this property a new loan for $9 million that was consolidated with the previous mortgage to form a single lien of $125 million, according to public records.
In 2007 the German bank Eurohypo provided a first mortgage loan on the retail part of the tower for $140 million. After the eurozone crisis hit, though, the bank decided to unload its loans on U.S. properties. Last May, Wells Fargo, Blackstone and US Bancorp bought loans from Eurohypo on 14 properties located between New York, Boston, Miami and across the country, for a total value of $740 million. Wells Fargo agreed to purchase the loan on the retail component of 15 Central Park West, among others. Recently, Wells Fargo transferred the mortgage to Morgan Stanley.
A spokesperson with Wells Fargo confirmed to The Mortgage Observer that the bank is no longer involved in this loan. Morgan Stanley declined any comments for this story.
Several Morgan Stanley bankers will be able to keep a very close eye on this financing. "Four present or former Morgan Stanley executives were among the initial purchasers" of 15 Central Park West apartments, said author Michael Gross, who is currently writing a book on the building. Morgan Stanley executives were "outnumbered only by executive of Goldman Sachs – which financed the building – and the defunct Lehman Brothers," Mr. Gross added.
apirolo@observer.com
15 Central Park West
,
Arthur and William Lie Zeckendorf
,
Best Buy
,
Blackstone Group
,
Eurohypo
,
Goldman Sachs
,
Lehman Brothers
,
Lloyd Blankfein
,
Michael Gross
,
Morgan Stanley
,
Robert A.M. Stern
,
US Bancorp
,
Wells Fargo
,
West Elm