Medidata Close to 100K s/f Deal at 350 Hudson
---
---
Medidata Solutions, a software and computing company that provides services for clinical drug trials, is negotiating to take a nearly 100,000 square foot lease at 350 Hudson Street several sources have revealed to The Commercial Observer.
Lineene Krasnow, a spokeswoman for Medidata, confirmed the company was searching for space and would soon complete a deal, though she would not specify where it was looking or far along in negotiations the firm had progressed.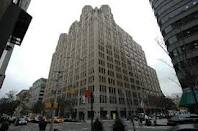 "Medidata will be relocating in 2013 in New York City, but arrangements are not final," she said in an email.
The company currently has space at 79 Fifth Avenue.
Sources say the software firm, which offers cloud computing services that help in the management and planning of clinical research and trials, would likely pay rents either in the high $40s to low $50s per square foot for the space at 350 Hudson Street.
The roughly 350,000-square-foot building is one of several office properties in the Hudson Square neighborhood owned by the Downtown church Trinity, which has been the benefactor of a surge of leasing activity in Midtown South, the greater area of which Hudson Square is a part. Havas, the French advertising company, signed an over 250,000-square-foot deal earlier this year to move into two Trinity properties, 200 and 205 Hudson Street.
Earlier this year, the publisher Pearson also added almost 40,000 square feet to the roughly 270,000 square feet it leased last year at 330 Hudson Street, a building that is being redeveloped by the investment firm Beacon Capital Partners but that Trinity owns the ground lease on.
In May, fashion designer Tory Burch leased 80,000 square feet at 350 Hudson Street.
Despite the strong activity in the area, Hudson Square's vacancy rate has been held artificially high by 550 Washington Street, a large office building controlled by Eugene Grant that has been mostly empty for years.
It appears that Medidata will take space being vacated by Havas at 350 Hudson Street. The company has nearly 200,000 square feet in the building according to the real estate database CoStar but is vacating the offices in order to move into the lease it took at 200 and 205 Hudson Street.
Lisa Kiell, a leasing executive at Jones Lang LaSalle, is representing Medidata in its deal. Ms. Kiell did not return calls seeking comment.