Manhattan Rental Rates Top the Rest
---
---
Despite recent challenges in our quaint local market of Manhattan, the average asking rent has generally continued on an upward trajectory since the recent recession. Part of this has to do with red-hot Midtown South and its rising prices, and part of it has to do with Midtown and space generally being leased at the lower end of the range while some of the higher-priced product languishes (i.e., a bit of a statistical anomaly).
Even Downtown will likely soon see a sharper increase when higher-priced space at World Trade Center is included in the formula within the next year. And compared to other markets around the country, Manhattan far outweighs the competition.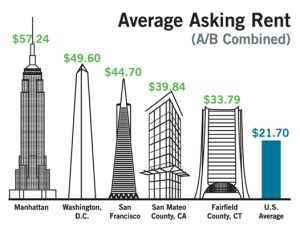 Combining Class A and Class B availability (the method quoted in our national reports) shows that our current average asking rent of $57.24 per square foot is 15.4 percent above that of the next-priciest market on the list—Washington, D.C.—with its $49.60-per-square-foot price. The Bay Area comes up next, with San Francisco proper and the tech-heavy San Mateo markets in positions three and four.
Then it's back to the NYC metro area and Fairfield County in position five. That order is likely to remain the same for the foreseeable future, though the Bay Area could usurp Washington, D.C., if tech remains hot to trot.
And in case you were curious, of the 80 markets Cassidy Turley tracks in the United States (with an average price of $21.70 per square foot), the least expensive at the moment is
Wichita, with an average asking rent of $11.99 per square foot.
Robert Sammons, Cassidy Turley