Icon Dot Com: One World Trade Center Debuts Website
---
---
The Durst Organization and its Cushman & Wakefield leasing team introduced their website for One World Trade Center yesterday in what promises to be the next big phase in the marketing of the soon-to-be iconic skyscraper.
The team behind the 1,776-foot-tall office building will use the website to showcase the 1.3 million square feet of available space.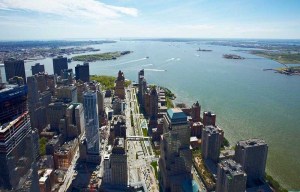 "The emphasis of this website is to get space leased, rather than focus on its historical relevance," said Jordan Barowitz, director of external affairs for The Durst Organization.
"We see One World Trade Center as a global building, and it is important that we get this message out to as many people as possible," said Alan Stein, an executive director at Cushman & Wakefield who, alongside Tara Stacom, is handling leasing for the building.
Both Mr. Stein and Ms. Stacom have sent out a link to the building's website to over a thousand notable commercial real estate brokers and big international firms from all over the world , Mr. Stein said.
The role of the website is to "accentuate curiosity," added Mr. Stein.
The website admittedly does that, offering the user the rare chance to see northerly and southerly views of Manhattan from the 90th floor of the city's tallest tower.
OneWTC.com was designed by Wordsearch, the same London-based company that created the building's spire-centric logo earlier this year.
Silverstein Properties, the other developers who have partnered with The Port Authority of New York and New Jersey to develop the new World Trade Center, has used 7 World Trade Center, its completed tower, and a interactive marketing center to help sell prospective tenants on leasing space at the site.
"We don't have a marketing center such as the one Larry has," said Mr. Stein. "His is fantastic."
But that is not to say that Mr. Stein and Co. have been slacking on selling One World Trade Center.
"We have been marketing this building for quite some time. Calling this a 'late start' is inaccurate," added Mr. Stein.
When prospective tenants will eventually be allowed to tour the available floors at One World Trade Center, the space "is going to lease itself," said Mr. Barowitz.
"The views are unparalleled," he added.
Floors 70 through 90 in the tower, which have floorplates that range from 31,772 square feet to 40,859 square feet, remain available. Floors 45 through 49, and floors 56 through 63, are also available, with larger floorplates that are as large as 47,158 square feet. 
China Center New York LLC has floors 65 through 69, along with a portion of the 64th floor. The U.S. General Services Administration  has floors 50 through 55, while fashionable anchor tenant Conde Nast has floors 20 through 44.
drosen@observer.com